Our relationship with Crestron is quite close you could say. In fact, Crestron is a part of the inspiration that drives what we do here at GeeksFL every day.
The inspiration to strive and implement the most innovative and most powerful system integration out there. A system that offers the user stellar accessibility and unparallel comfort that stands out in the crowd.
If you don't understand what I mean, then you haven't met the Crestron family of products. To get you introduced, we decided to round up some of the most powerful products in their portfolio.
Here's our list of innovative and cutting-edge products from Crestron.
1. PYNG-HUB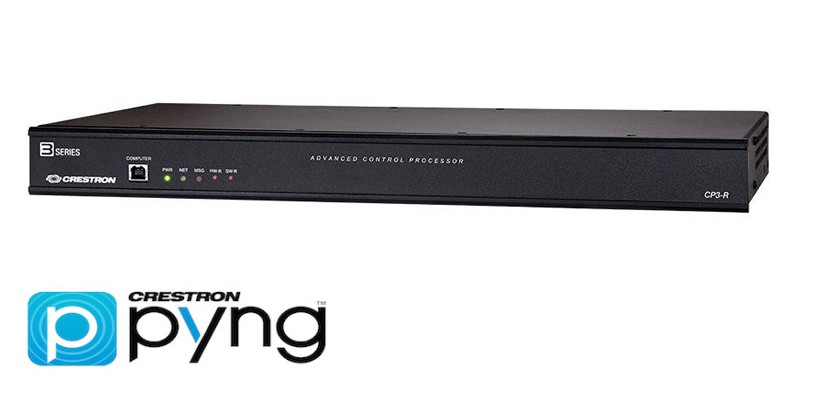 Simply the best high-end HUB for your home. Crestron's Pyng Hub is the ultimate hardware solution which interfaces security cameras, music, shades, HVAC, video, voice and pretty much everything with a smart interface in your home.
The PYNG HUB communicates using the Crestron app via an internet connection to enable and monitor any smart device in your home.
The connection is supported through the built-in infiNET EX and Cresnet ensuring a wide-range wireless and wired connectivity for all Crestron devices.
The hub includes a high-speed LAN port for ethernet devices and the infiNET EX wireless connectivity.
2. Crestron Shading Solutions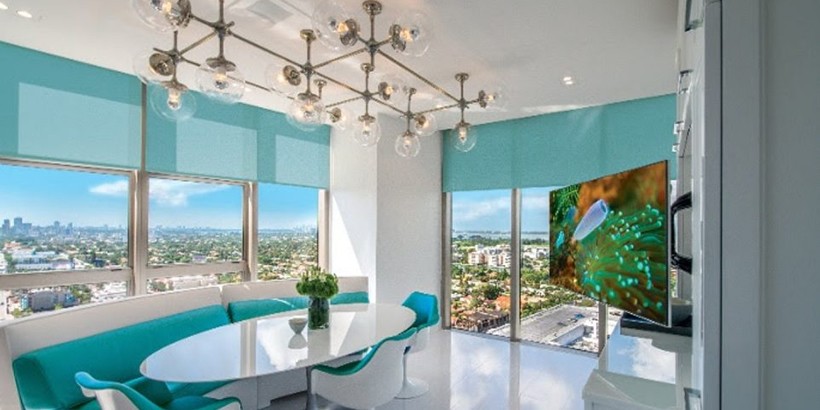 One of our favorite products from Crestron is called "Shading Solutions" and we talked in an older blog post about Top 5 Reasons Why Shading Solutions is the Best Choice for Your Home.
In that article we underlined the fact that "Shading Solutions" offers by far the best features a smart shading system can offer.
First of all, Crestron's shades are available in 3 opacity levels:
Transparent (they transmit enough light so you can see everything like seeing it through the window, but they also block glare and add some protection – openness factor 3-17%)
Translucent (they protect from glare, and you can only see shadows – openness factor 1-3%)
Blackout (full UV protection and solar it limits the heat and you can't see anything through them)
All these types of shades are available in a huge collection of fabrics an textures. In fact, Crestron even offers a color matching service which allows you to give them a sample item for color and they will come with the exact color on the shades.
The Shades can go up to 15 feet wide and they can follow custom tracks such as (curve, 45 ° Bend, double bend, S curve, 90 ° bend or even 90 ° double bend).
All these can be pinch pleat, ripplefold, accordia-fold and available with a lifetime warranty.
3. Sonnex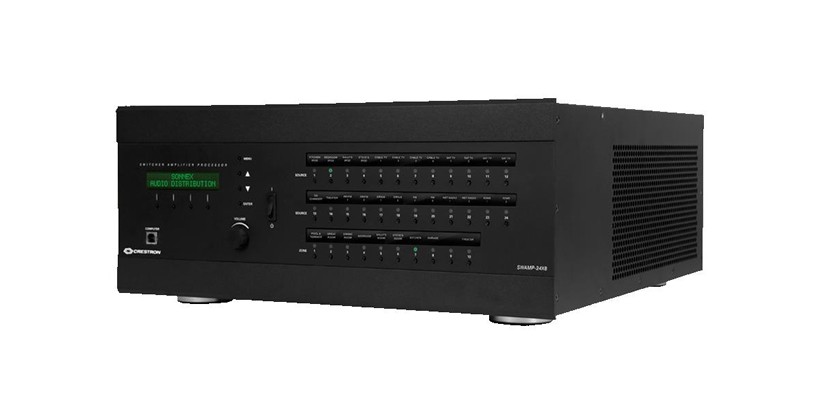 Thinking about distributed audio systems? Look no further because Sonnex is the best solution there is!
This genius sound box is a fully-scalable distribution system which offers high-quality output for audiophiles in each room and at a low consumption too.
Sonnex supports advanced DSP and clean integration that is out of this world. On top of that, the multiroom audio system supports up to 74 zones and over 30.000 Watts of power.
We really enjoy working with Sonnex because it saves up a lot of rack space (unlike most audio distribution systems out there) and it is also the most cost effective system out there.
Among favorite features of Sonnex we have:
Support for user controls – user can change volume, treble, bass, mute and zone from any room via a Crestron touch panel
It includes tone profile support
Dynamic range control
5-Band Equalizer for a more tailored sound experience
140 Watts / Ch. @ 8 Ohms – 400 Watts / Ch. bridge
4. TSD, TSW and TSS Touch Screens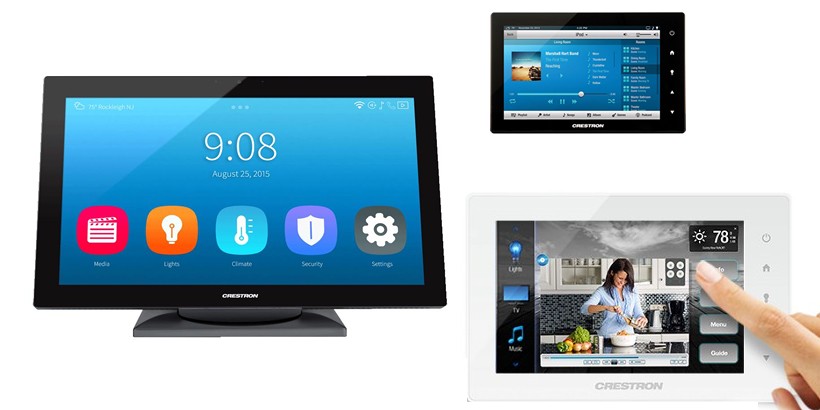 In over 40 years of activity Crestron has been in search for the top controller for your home environment.
They came up with various forms and designs and probably the largest collection of touch screen designs out there.
Crestron even goes as far as saying that it's impossible not to find one that is tailored for your taste.
Their collection of touchscreens goes in 3 categories:
TSD – Touchscreen Display
TSW – Touchscreen that's wall mounted
TSS – Scheduling touchscreen
All these come in white and black mostly with stands or without them. Some are wider with more functionality while others are small and focused on simple tasks.
The small screens start at 4.3" and go up to a larger size at 15.6" and even 21.5". The touchscreens are high-definition offering a great UI and access to media, shades, climate control, security and lighting.
5. Universal Remote Controllers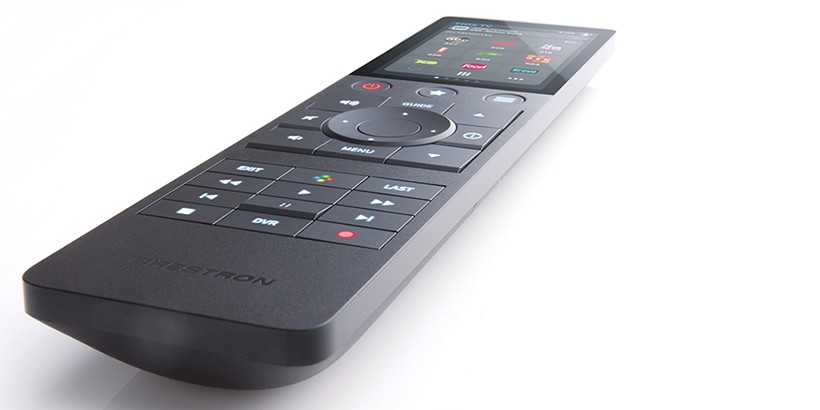 To complete the large collection of touchscreens and bring even more comfort to the user, Crestron created the ultimate collection of remote controllers.
Their top of the line models are HR-310 and TSR-310, two handheld remote controllers that will make you feel you can control the world. In fact, these help you get in control over HVAC, lighting, shades, TV channels, garage doors, ROKU, Apple TV, XBOX etc.
Both remote controllers have an astonishing elegant appeal with customized buttons that fit your lifestyle.
The H3-310 is simple, clean, and beautiful including a 9 custom engravable buttons and ultra-reliable infiNET EX wireless gateway. The remote works on standard AAA bateries.
The TSR-310 even includes a small 3" touch screen display and voice control. It has a rechargeable battery which lasts 3-4 days.
You can instantly connect via Wi-Fi connectivity for high-bandwidth communication without gateway.
Get Your Crestron System Integration Right Away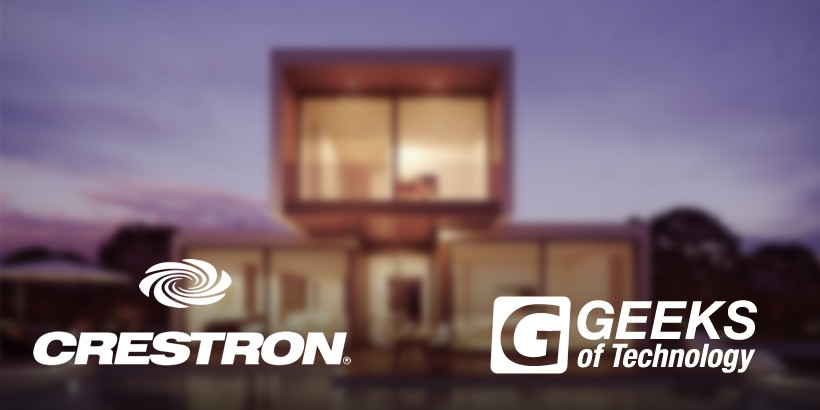 We believe that Crestron has what it takes to lead the innovation sector of the home automation industry.
In fact, they have proven this for the last 40 years and they keep surprising us every time with new incredible things.
We are among the best Crestron integrators out there and we want to give you a hand in building your dream home. Get started here or call us today at (954) 251-0600