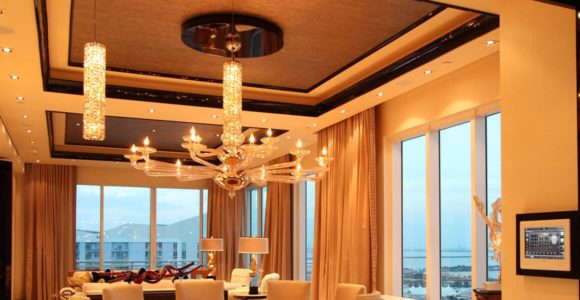 Lighting Design & Controls
Our Architectural Lighting Design expertise includes the design, engineering, integration and installation of complete lighting control systems for South Florida luxury residences or commercial office spaces. From concept to creating custom lighting scenes, Geeks of Technology bring years of lighting design experience to every project.
Lighting Controls not only allow for customization of any lighting scene or mood, but are a convenient and elegant way of adjusting the level of light in multiple rooms, with a single touch of a button. Automated lighting control installation in South Florida is a necessity for luxury homes and large commercial office buildings. Make turning on and off the lights seamless and stress-free with a high-tech lighting system that can be controlled from the control panel, your desktop, tablet, or smartphone.
Full Lighting Control Solutions
It's well-known that lighting is the most important factor for taking spaces of your home or office from mediocre or awesome to nothing short of fabulous. Regardless of how richly your home is decorated, poor lighting can completely ruin the appeal, presentation, and mood of the room.
Achieving the perfect balance between natural and artificial light, or creating rich, luxurious moods for living spaces, can only be made with the help of automated, quality lighting controls.
An added benefit of these solutions is integrating the lighting with the rest of the systems in your home. Lighting controls make smart home automation complete. With the touch of a single button, you can take your home from "Party" mode to "Romantic" or "Good Night" mode in a heartbeat.
Depending on the project type, Geeks of Technology may recommend a Centralized Lighting System, a Wireless Lighting Solution, or a combination of the two in order to ensure that you get the most out of your lighting control installation and every-day use.
Control Keypads

Custom designed lighting scenes are easily controlled from a variety of keypad styles, complementing the rooms' décor. Geeks of Technology uses a variety of top home automation brands and lighting control systems, which will all determine the associated control keypad.

Touch Panels

Touch panels are the ideal lighting control interfaces. Besides having the ability to control every other integrated home automation system, they allow for both independent or global adjustment of any controlled light in your home or office. Geeks of Technology is a certified Crestron lighting installation company in South Florida that installs Crestron touch panels for lighting and every other integrated system of your home or office.

Mobile Controls

Control your smart home automated lighting from your mobile device, tablet, or even smart watch. Whether our geeks install lighting controls for your South Florida residence or office space, or home theater equipped with wall sconces and recessed RGB color changing LEDs, control all lighting via mobile controls and apps.

LED Lighting

Leveraging engineering, design, and installation expertise, we provide complete solutions to implement residential or commercial LED lighting controls in your project to seamlessly integrate it with the AV, HVAC, Building Management Systems (BMS) and Security.

Green Light Power Pack

Affordable and reliable lighting controls for smaller lighting systems are packing a punch, as they are supporting a wide range of devices such as keypads, occupancy sensors, photo sensors and displays, allowing for central monitoring and remote control of the lights, as well as control of lighting in multiple locations.

Wireless & Dependable

Retrofitting lighting controls in a fully finished home doesn't need to leave unsightly installation marks. Today's wireless lighting technology allows for a quick, clean, and efficient installation, even for the most demanding client. Our team uses high-quality wireless lighting controls that leave no cords showing, no holes in the walls, and no mess.