We live in a world filled with a large variety of products that bring tons of styles and choices. You often get confused about all the options and solutions and sometimes you may be afraid of making the wrong decision.
The same applies when choosing home automation appliances and especially motorized window shades.
Here at GeeksFL we design, supply, install and support multiple types of shades ranging from roman style shades, cellular shades, roller shades, drapery systems, skylight shades and plenty of other types of motorized solutions.
In addition to shade types, you should also know that each model comes with a variety of over 400 custom fabrics and a color matching service.
This means you basically have unlimited options and the only limit is your imagination.
Still, we want to help you make the right choice and therefore we're going to introduce you to the world of motorized window shades.
UV Protection and Opacity
As you may already know, shades come in different coats and fabrics and therefore is important to pick one that fits your environment and protects you from UV exposure while keeping your privacy.
Transparent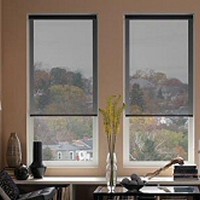 These are shades made out of fabric that allows light to get into the room and allows you to see through. The transparent shades have an opacity between 3-17%.
We most commonly recommend Transparent shades because they offer great solar protection and offer a natural light and glare control. In addition to that, these shades reduce solar heat.
Translucent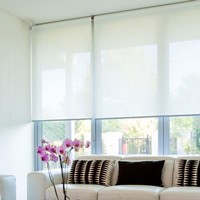 If you want less sunlight and more privacy, then Translucent blinds are for you. These will allow a diffused light to get in and still allow you to see outside a bit. However, from the outside people won't be able to see anything more than shadows and silhouettes.
These shades have an opacity of 1-3% at most. The great thing about Translucent shades is the great solar protection, the enhanced privacy and the fact that they reduce solar heat greatly.
Blackout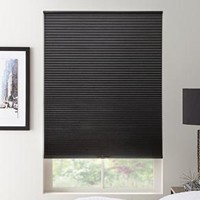 As the name suggests, these shades will completely block any sunlight and visibility. They will offer you complete privacy, and avoid any light leak whatsoever.
The great thing about blackouts is that you will enjoy complete privacy and the solar heat protection is far better than any other option, as well as complete room darkening even during the day.
Eco Friendly Solutions & Safe Environment

Our top priority at GeeksFL is to maintain a great balance between flawless design that fits your home and working with materials that are recyclable and eco-friendly.
On top of that, it's essential to ensure that none of the materials represents a danger to your family and when needed these can sustain their functionality.
As a result to this, we only work with:
Certified Environmentally Safe Shades

This means that our shades comply with the LEED Green Building Rating System™ and are followed by the symbol on the left.
---
Recyclable Materials (Green / Non-PVC)

We never use non-recyclable materials such as PVC or Lead.
---
Mold and Bacteria Resistant Treatments

The fabrics used in the production of our shades include protection that inhibits odors, microbes and potential harmful or stain generators.
---
Lead-Free

Our shades avoid the use of hazardous lead or lead-based compounds. You can see the icon below.
---
Fire Retardant Materials

Check out the icon on the left to select only fabrics that prevent or resist to fire.
Types of Window Shades and Motorized Blinds
Before deciding on what type of shades you want for your home, you need to get familiarized with the options you have.
It's quite important to make the right decision because these play an essential role in the aesthetical aspect of your home.
Therefore, below you have the most popular options:
1. Roller Shades and Blinds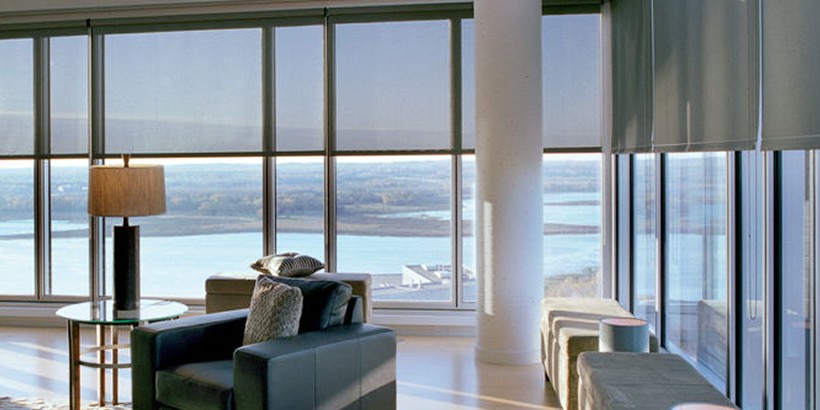 These are beautiful, quiet options that are powered by a precise control panel which keep track of your daily habits.
Our solutions can fit any type of window with a width up to 15 feet. Multiple shades can be interlinked for virtually unlimited widths. The roller shades will provide a beautiful, unobstructed view of the scenery, while the blinds are packed with a dual fabric layer offering you complete privacy by turning blackout in just few seconds.
2. Roman Style Shades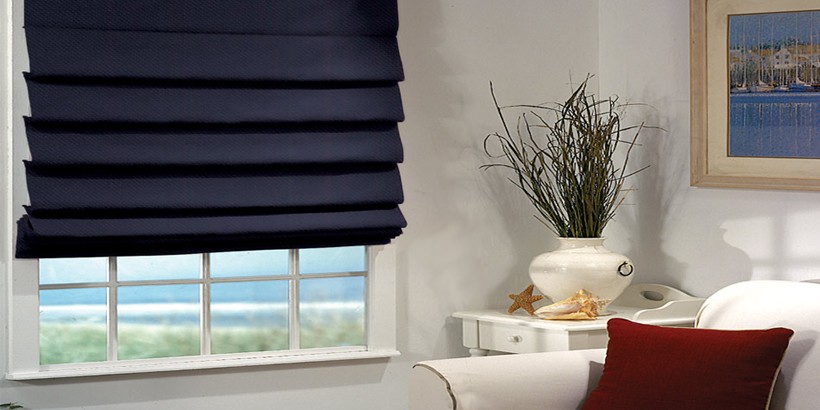 If you want a more cozy feel and a vintage style, then the Roman Style Shades are the solution for you. These shades offer a pleasant, royal feel that transports you to antique Rome, but keeping the balance between beauty and high-tech at all times.
Unlike traditional roman blinds, our motorized window shades can be controlled via a wall-mounted keypad, a touchscreen panel or using your favorite application on your Apple or Android device.
3. Skylight Shades and Blinds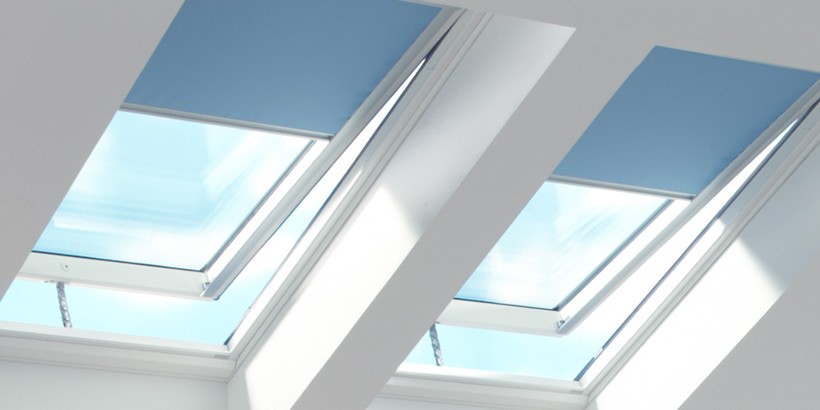 Benefit of all the natural light you can get in your home through Skylight shades. These can give you an extraordinary view to the sky, the stars and keep a great heating balance in your home.
In the summer time, skylight shades will reduce the heat gain while in the winter will help you use all the sunlight energy to heat the room and offer you all the natural light that you want (keeping away the UV radiation).
Our skylight shades offer support for inside and outside mounting, inclined windows, bottom-up shades and sizes up to 70 square feet.
4. Drapery Systems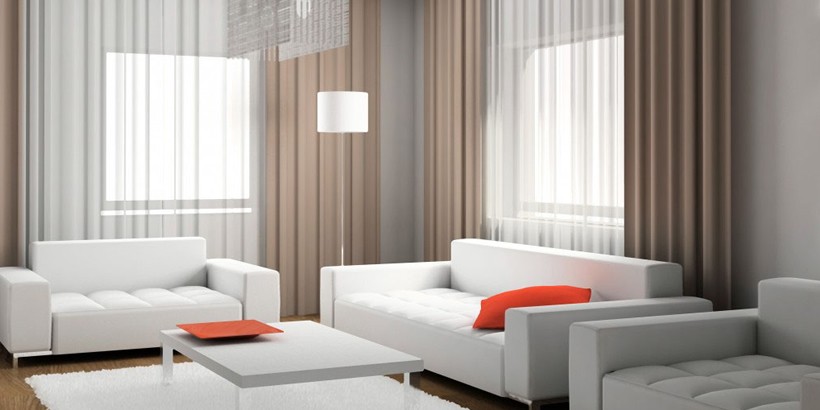 If you want more elegance and style in your home, then Draperies are the ones for you. These draperies can fold and pleat according to your preferences and custom tracks.
The drapery tracks can be bent according to elements in your home such as curve, 45° double bend, s curve, 90° bend or double 90° bend.
Each drapery can be pleated using the Pinch Pleat, Ripplefold or Accordia Fold. On top of that, you can choose the starting point of the pleating system (right, left, center, multiple draw etc).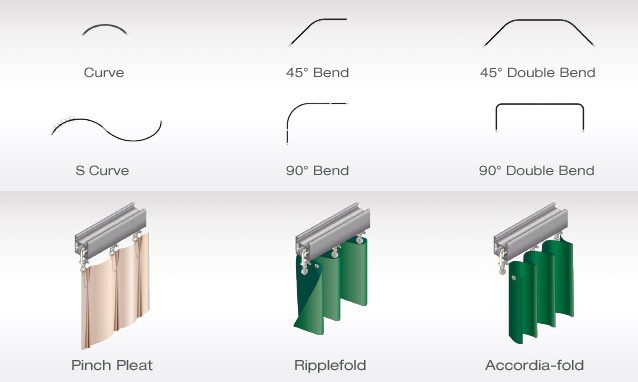 Fabric Designs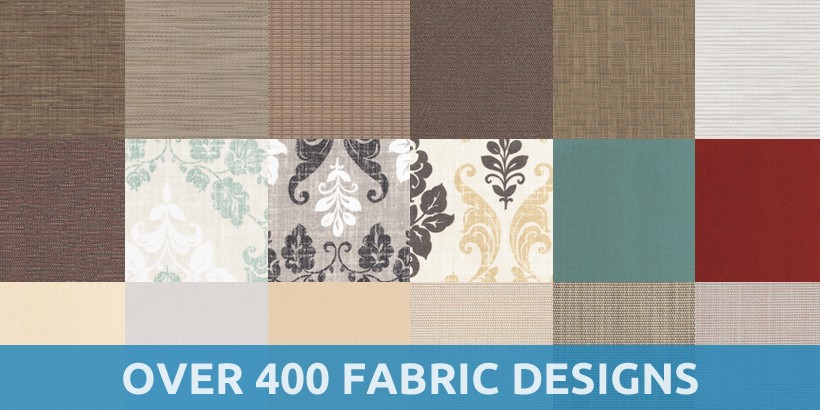 Another important aspect when deciding about your window treatments is the fabric type and the design. You may want to match certain textures with elements around your house or be creative and combine two styles. You can do this by checking out our palette of over 400 fabric designs and textures.
These include transparent, translucent and blackout materials and alongside we offer brackets and accessories. Each style and pattern was designed in partnership with interior designers.
The Color Matching System
We consider the customization process the most important aspect of our work. This mean we always want to aim higher in finding the right solution for your home.
As a result to this we work with the "Color Matching Solution" which basically works as a Photoshop Color Picker for fabrics used in your shades.
All you have to do is to give us a material sample and our experts will start developing the color that matches your home.
Which Shading Solution is For You?
As you can see, there are plenty of solutions and now you know how they work. Let us know how you want to start and what we can do to help you get started.
If you're not sure about your decision, you can always talk to one of our consultants (954) 251-0600 or leave us a message using the contact form.