The motorized shading industry is now more competitive than ever. Believe me when I say that this is a great thing for you because prices are better and the production technologies are coming from the future.
Simple, clean or more sophisticated, motorized shading solutions can now be fully customized based on length, colors from samples, with special features and advanced solar protection to classic and vintage looks. So either if you are looking for a way to keep your home life even more private or you need a way to control the work space lighting, here are the best solutions to do so.
Without any further ado, we present the 7 most impressive motorized shading solutions that we recommend every day.
1. Crestron Shading Solutions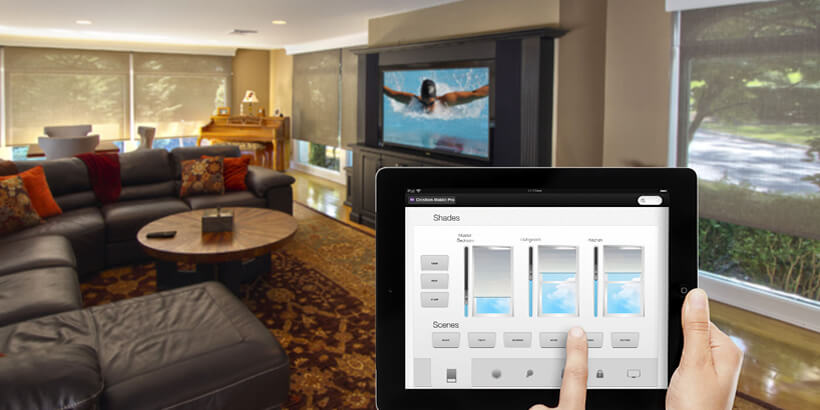 Crestron's Shading Solutions is a professional blinds collection that embeds color matching service, over 400 fabric types and characteristics that will make your shades stand out in the crowd. They are the first company to offer lifetime warranty for the shades!
Crestron Shading Solutions is a long lasting option for your windows even if you want an advanced drapery system, skylight shading, roller shades or even the Roman shades.
On top of that, it's worth mentioning that Crestron Shading Solutions includes an Intelligent Power Supply system that can power up to 10 shades in your home or office.
Best Features of Crestron Shading Solutions
Includes Intelligent Power Supply
Multiple fabric types and transparency options
Roller Shades, Roman Shades, Skylight or Drapery System
Unlimited Lifetime Warranty (unique in the industry)
Learn more about Crestron Residential Shades
2. QMotion Motorized Silent Shades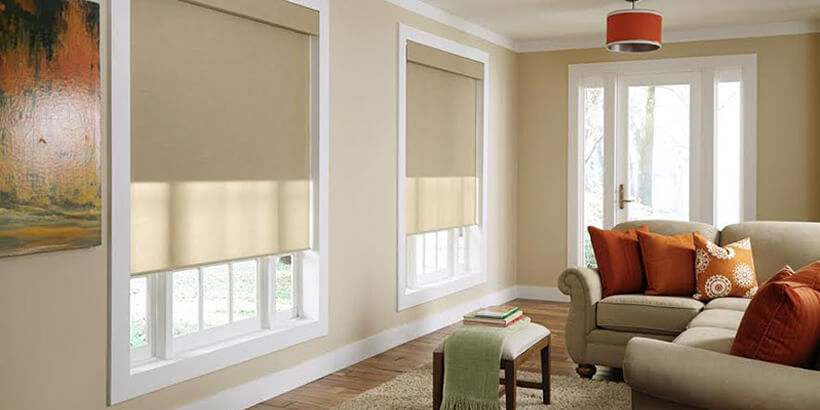 The QMotion motorized shades are simply amazing offering a dual screen, one for sun-blocking and another one to completely block any light that might come in.
These shades are powered by low-voltage batteries and they can be controlled using a smart remote control which gives you full access to every shade individually, allowing you to choose how much you want to roll them out.
Top QMotion Shades Features
They work with common D-cell batteries
Elegant designs and even a honeycomb fabric included
Wireless Shades
Battery life of up to 5 years
Learn more about QMotion Shades
3. Lutron Serena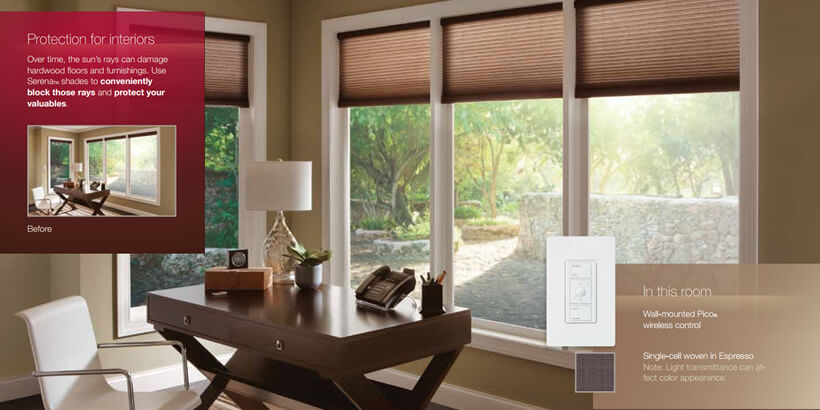 Probably the most popular motorized shading solution available today. It's an aesthetic and affordable sun-blocking solution that runs on battery powered rollers.
It's easy to use and the variety of fabrics and materials will help you choose a design that fits your needs. In the package you will get two types of remote controllers, one that works for multiple groups of shades and another one that is designed for a single shade or a group of shades.
Why Lutron Serena?
Shades move in perfect unison
Battery-powered
Quiet-motion
3-5 year lifespan
Learn more about Lutron Serena
4. Somfy Motorized Shades & Draperies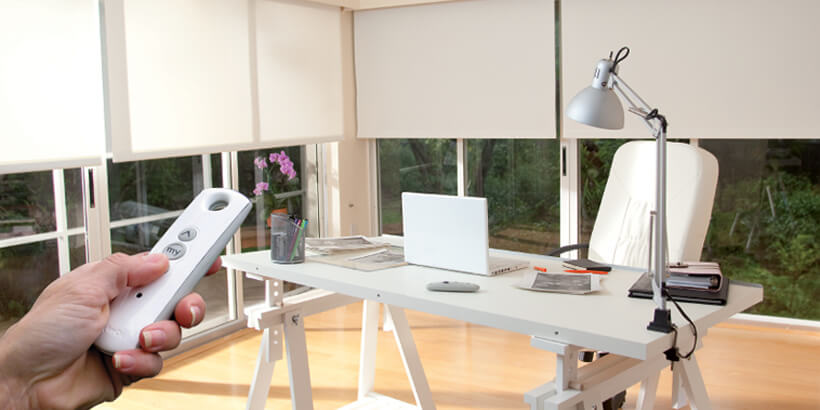 Somfy is by far the most versatile window shading solution available today. They operate worldwide and offer a large variety of motorized blinds and smart shades.
We picked Somfy Motorized Shades because they are a silent solution which manages to combine with elegance and hundreds of customization options.
Why Use Somfy?
Wired and wire-free motors
Battery powered shades
Hand-held remote
Timers and Sensors
Wireless wall switches
Learn more about Somfy
5. Appeal Ultra Smart Blinds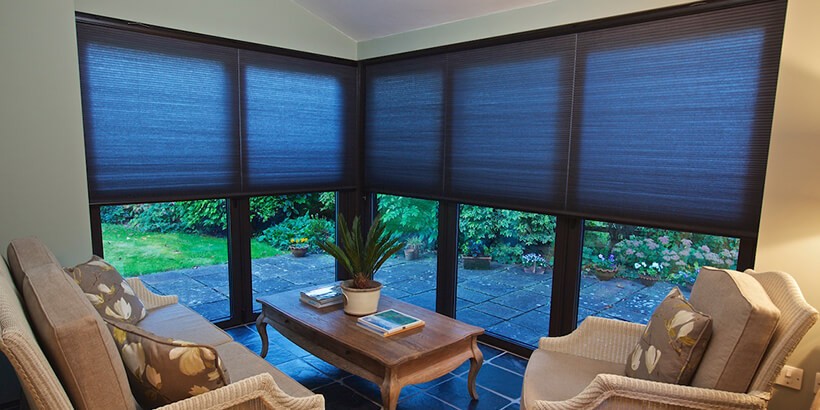 Stylish blinds powered by a rechargeable power pack and controlled by a smart wireless remote controller. It's a smart solution that offers solar recharging capability and a light and temperature sensors that are triggered according to custom metrics.
We also enjoy that Appeal offers a variety of over 400 different fabric types and a smart wireless wall control panel.
Why Appeal Ultra Smart Blinds?
One-touch control for all blinds in your home
Rechargeable power pack
Wireless and no trucking
Controlled from wall-switch
Control group of blinds or all blinds
Learn more about Appeal
6. Axis Gear
Gear is not a motorized blinds package, but more like an asset that helps you turn your classic blinds into smart ones making them fully motorized and automated smart shades. It will turn on when you set it up and will turn your blinds down when the sun sets.
Axis Gear also works with your smartphone allowing you to set-up a schedule or to control them using a remote control.
Why Use Axis Gear?
Ultra comprehensive
Works with any kind of shades
Supports smartphone control
Learn more about Axis Gear
7. Bali Autoview Blinds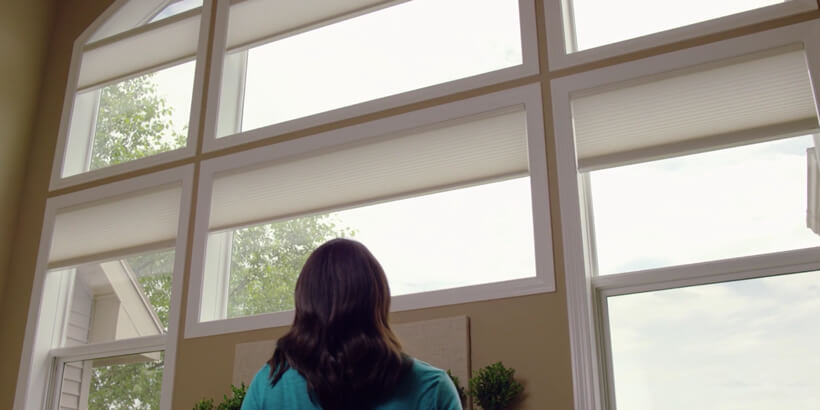 This is a great addition to any home. A motorized shading solution that fits your custom home design helping you make your room sunny or more private with just one push of a button.
Bali Autoview Blinds is comprehensive and even a child can operate it with ease through a smartphone or remote controller.
Why use Bali Autoview?
Motorized smart tilt
Smartphone control
Minimalist, clean and uncluttered
No cords or wires
Learn more about Bali Autoview
Conclusion
Smart blinds are one of the key ingredients for making your home really hands free and smart, and that's alongside adding a beautiful design and changing the way you control the sunlight in your home. As you can see, the solutions are quite diversified and there are plenty of textures and materials available for you to customize your blinds accordingly.
Don't know which motorized shading solution fits your needs? Let one of our experts explain you which materials are recommended for your home, get in touch with us and let's talk about color combinations, technologies and the type of home you dream of.