Lighting is what brings life to a smart home system. It is lighting that brings color and astonishing design, but in our field there's another key aspect, and that is convenience.
Convenience incorporates 3 main characteristics and those are: time saving, ease of use and elegance. We do our best to include these 3 main traits in all of our work and we get great support from the best, most reliable keypads.
What can a smart keypad do for you?
It's not uncommon to see people who believe that smart keypads are nothing more than wall-mounted panels that act as light switches. The fact of the matter is that they are way more than you may think.
In fact, these small devices don't just look great, but offer an important contribution to your smart home experience.
Among the top features of smart keypads we have:
Control multiple groups of lights (ex: Kitchen, Livingroom, Front door etc)
Get status feedback from an RGB sequencer
Touch sensitive controls
Multi-touch functions that control custom macros
Custom short/long press behavior
These are all included in a small, clean and effective device that is mounted on your home's wall adding a plus of elegance and futuristic design.
Basalte Sentio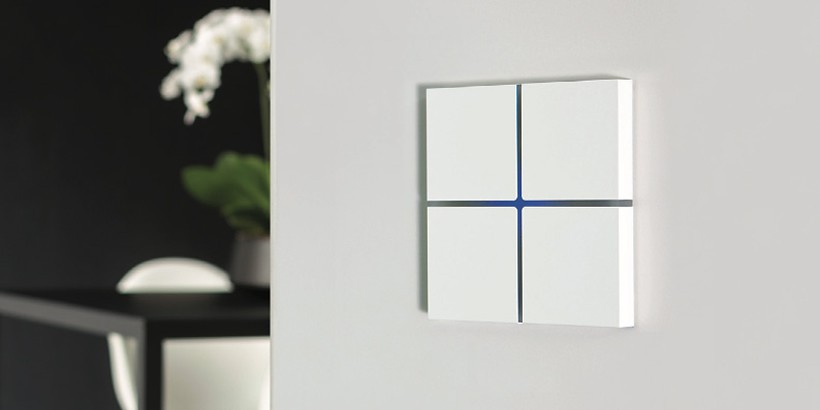 Basalte is a one of a kind technology powered by a unique patented design which offers a 2-way & 4-way keypad.
These keypads are minimalist and intuitive and really manage to include a large suite of features that bring your home's lighting to another level.
Sentio is powered by a touch-sensitive interface that supports 2-keypads or 4-keypads. These can be customized and even engraved with your rooms or room groups.
Sentio has surface control that can be customized and also includes support for multi-touch and short / long press custom functions.
Vitrea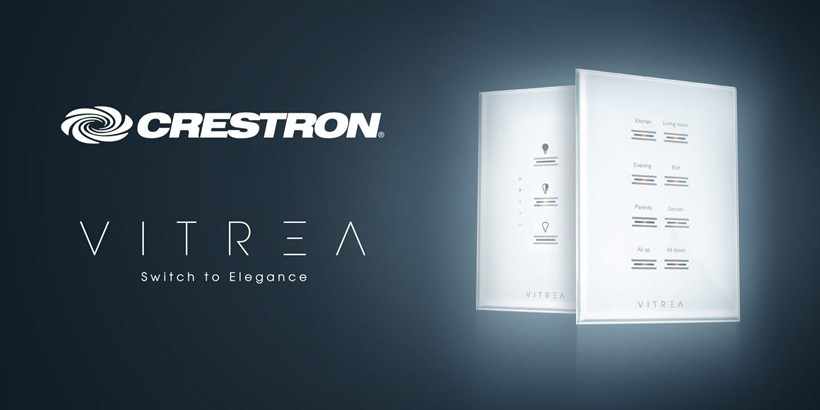 By far the most interesting new product from Crestron. Vitrea is a one of a kind vtouch keypad that manages to impress with a highly elegant design and a futuristic perspective.
Keep in mind that Vitrea is not all looks because it incorporates features like LED light identification, multipress configuration (long-press, short press) and fully customizable glass design.
Vitrea is a company with over 25 years of experience in the home automation industry and has proven numerous of times that it is an innovator.
The VTouch keypad benefits from the Crestron partnership by implementing the Cresnet connectivity which ensures a fast, reliable connection with no lags and additional layers of security.
Crestron Horizon Keypads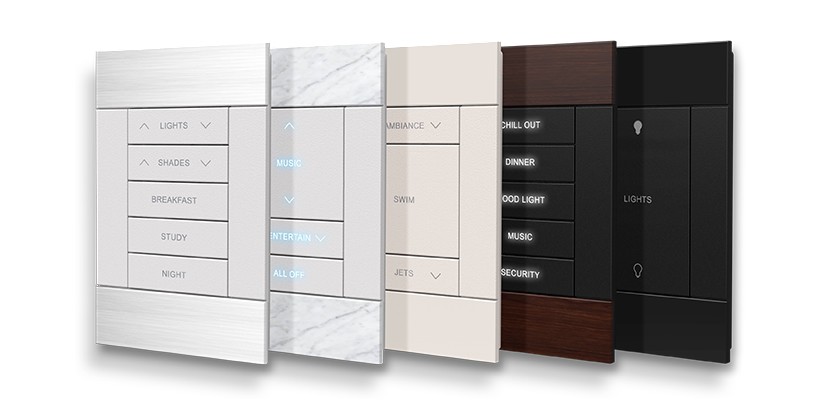 Designed to complement any décor! These beautiful keypads stand out in a true Crestron fashion by offering probably the most customizable design and functionality on the market.
Crestron Horizon Keypads have an appealing look and texture that comes in a interchangeable structure offering over a dozen color schemes and hundreds of variations in terms of RGB display and gang sizes.
They fit any type of home offering a multi-gang expansion module from 1 gang to up to 4 gang.
This gives you full control over how the buttons look and how they are positioned.
On top of that, Crestron allows you to build your own design right from their website.
There you can choose:
The keypad background color
Button layout and design
Keypad light color
Trim style
Backlight color
Trufig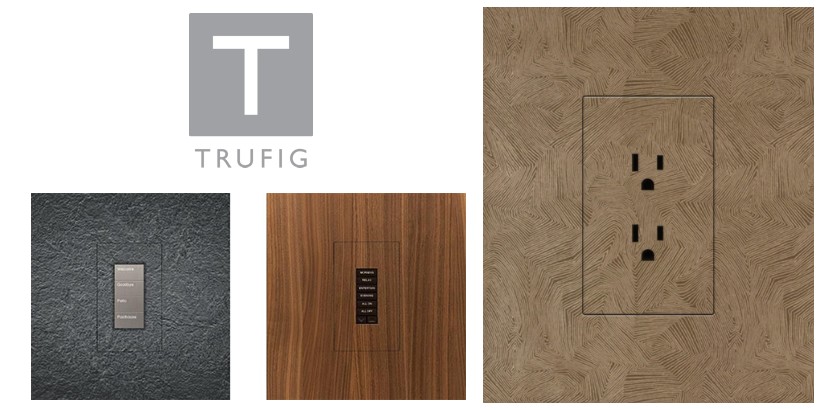 Trufig is not actually a keypad, but a revolutionary design solution that will blow your mind. Trufig is like a chameleon for your smart keypad.
The mounting system provided by Trufig will ensure that there's no difference between the texture of your wall and your smart keypad.
Trufig works with keypad manufacturers like Crestron, Lutron, Leviton and Savant so you'll have plenty of options to fit your home.
It is also worth mentioning that Trufig is also compatible with wall touch panels, making them look even more astonishing.
Cameo Keypads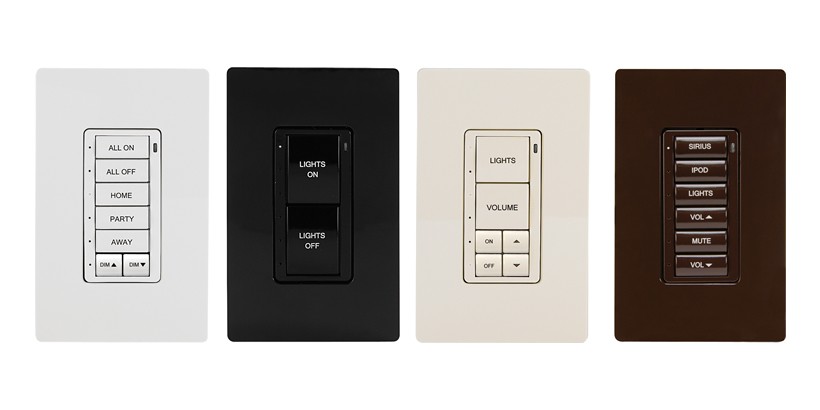 This is a one gang highly configurable Mount Keypad from Crestron. Cameo brings customizable buttons that can be configured by your installer to range from two to eight buttons.
You can choose button caps that come in four different sizes to fit in your design concept and convenience.
Cameo also includes auto-dimming backlight and custom laser engraved text.
A cool thing about the Cameo Keypads is that the backlight intensity is controlled via a sensor which detects presence and brightens the light for a crisp appearance.
seeTouch Wallstation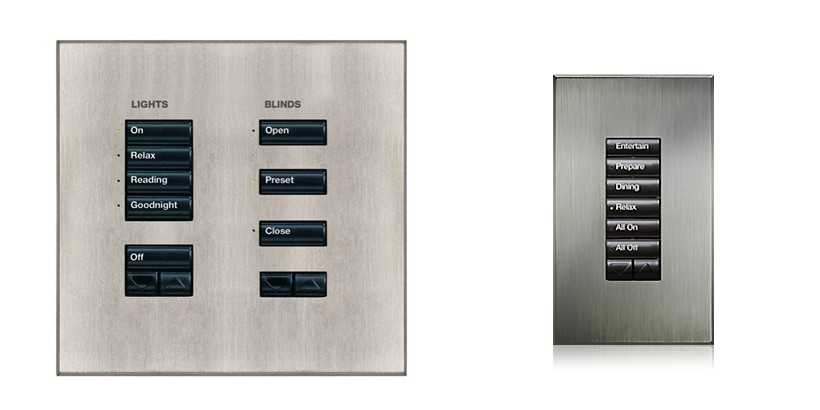 The Lutron seeTouch is a simple, minimalist keypad designed to support 1 to 7 buttons. The modular structure allows you to choose multiple colors and button configuration that fit your home's needs.
In terms of colours & finishes, seeTouch offers over 10 textures including matte and over 10 metal finishes to bring up a more futurist look.
Lutron Palladiom QS Wallstation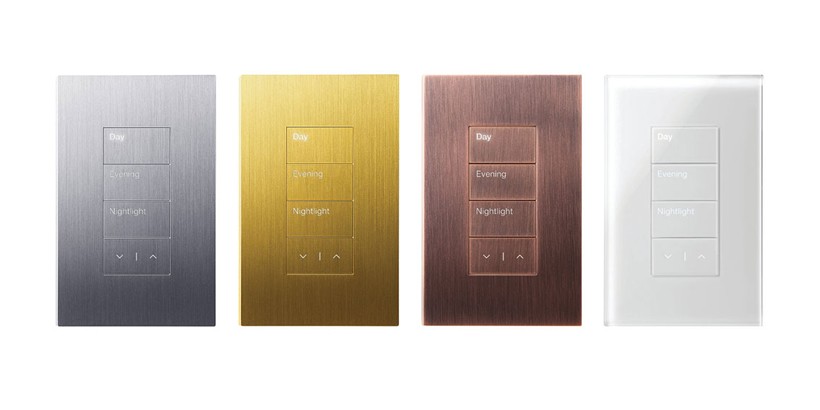 This is an elegant wall keypad with intuitive interface. Palladiom integrates macros to control a set of multiple smart devices or single devices that range from HVAC, smart shading solutions to lighting and audio / video distributions.
The color palette of Palladiom includes over 10 matte texutres, 6 metal designs and 1 awesome glass finish that makes your keypad stand out in the crowd.
It's modular design allows you to build square wallplates, single column that offers support for 2-buttons, 3-buttons or 4 raise/lower buttons.
Not Sure Which One to Choose?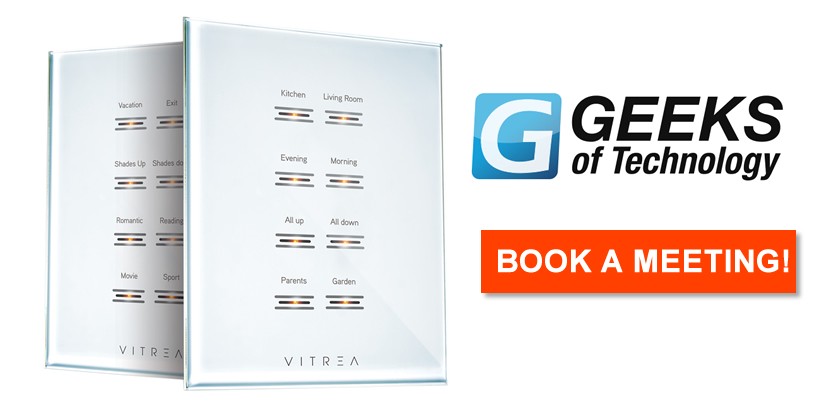 We are here to help you make the right choice for your home! Simply use this form to book a meeting with one of our representatives or call us at (954) 251-0600 and we'll be in touch with you ASAP.