A good security system is probably the key ingredient that makes our homes feel so comfortable and pleasant all the time.
At GeeksFL we treasure this aspect and work with the most innovative smart lock systems available in order to deliver the solutions that fit your home's needs and make sure they respect the latest security standards.
Today's article is a small contribution that helps you decide between smart locks that can help you secure your home and your most valuable assets in a clever, quick and flawless way.
Since every property is different, every smart lock should be the same. Here are 10 most professional smart locks in 2017.
1. Kwikset Kevo Smart Lock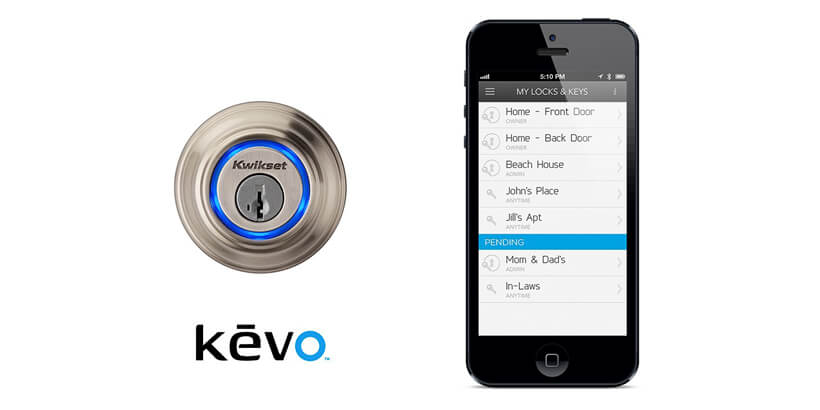 One of the most popular smart locks available today! Kwikset Kevo is a smart lock that receives only positive reviews all around the blogosphere. This smart lock embeds a touch triggered panel and also a key entry system.
We consider this a good way to avoid issues in case you lost your phone or you don't have your smartphone around.
Kwikset Kevo allows you to add multiple guests to your permission list and even set up a schedule when they can visit your home.
Why do we like Kwikset Kevo?
It's fast and ultra-responsive
It features a neat / clean design
Includes a smart key and classic key (alternative to your smartphone)
It includes both a digital and key based unlocking system
Learn more about Kwikset Kevo
2. Sesame Smart Lock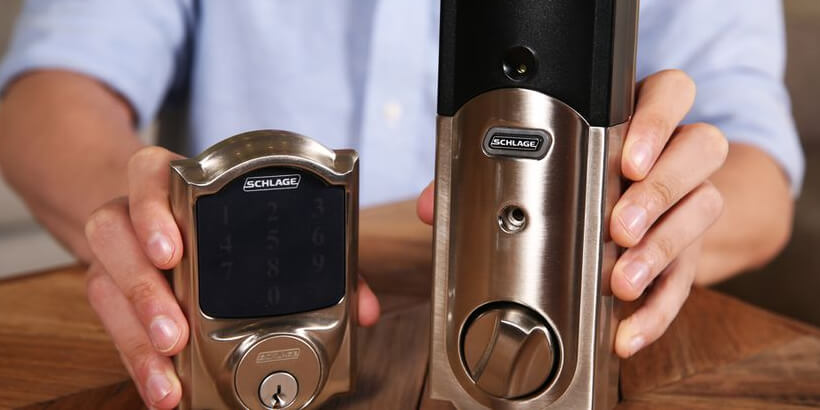 A voice and knock-triggered smart lock. Just say open sesame and your door will be unlocked automatically for you. Sesame has a fast response app that communicates with your door lock which is powered by a Bluetooth connection.
Sesame has a smart design that fits any latch anywhere in the world. You don't need to unscrew or change your lock, you just position sesame over your classic door lock and you are good to go.
You can also create a special knock pattern which tells Sesame that your phone is near so that you can get your door opened much faster. Besides that, Sesame comes with an optional plug and play WiFi access point which keeps Sesame online all the time.
Why do we like Sesame?
It can be triggered by phone knocks
Add privileged people
Add people with no access
Option to get notified when the door lock gets triggered
256 bit military grade encryption
Learn more about Sesame Lock
3. Yale Wireless Lever Lock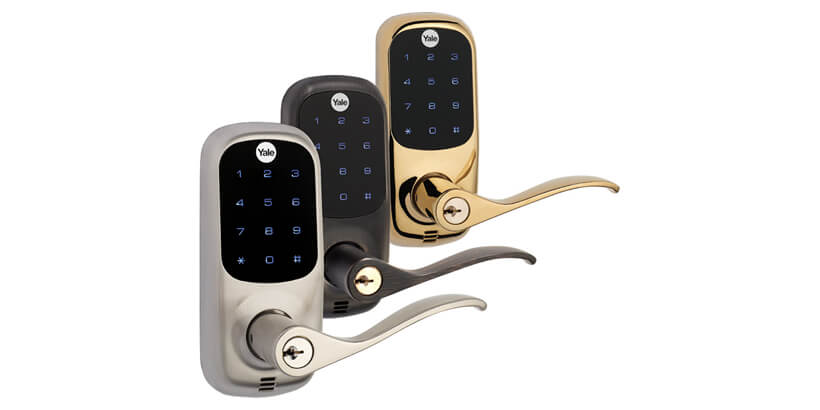 Yale is a world renown door lock specialist with a history of over 130 years and, now is the one bringing cutting edge solution for smart homes making it easy for everyone to secure their home in a fast and comprehensive way. This is a wireless door lock that features a touchscreen panel for access codes and a classic key  entry option.
These smart locks can integrate with Crestron's smart control system making it easy to integrate with your other smart devices allowing you too see when the lock has been used and even choose who has access.
Why Yale Wireless Lever Lock?
Beautiful stylish design that fits every door
Wireless communication system
Can create and manage user IDs and access schedule
View battery level and lock status 24/7
Learn more about Yale Wireless Lever Lock
4. Ultraloq UL3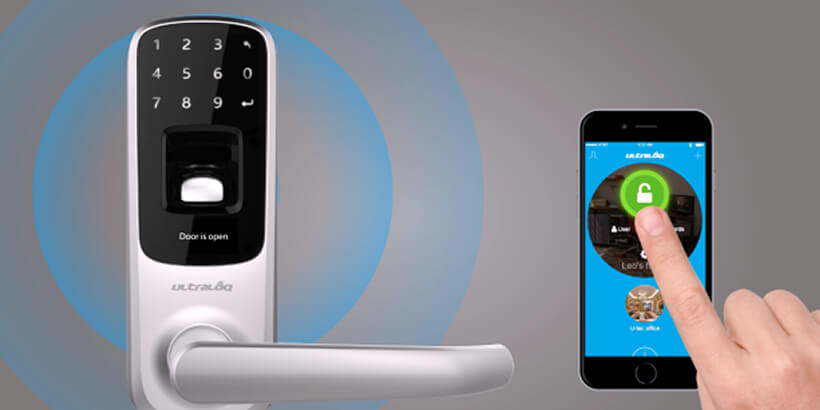 A beautiful designed fingerprint and touchscreen lock that integrates smartphone and even a keypad cod access. The UL3 is easy to install and comes alongside a smart app that is quite comprehensive.
Besides that, Ultraloq includes a detailed user guide and a ton of sensors. It runs on AA batteries ensuring at least 1 year of battery life or over 8000 times access.
Ultraloq can be installed outdoor or for indoor assets.
Why we like Ultraloq UL3?
It has an advanced fingerprint identification system
It allows you to set up a 4-8 digit code
It can sense when you are around
You can add a hidden backup key
It's IP65 certified against humidity and dust
Learn more about Sesame Lock
5. Lockitron Bolt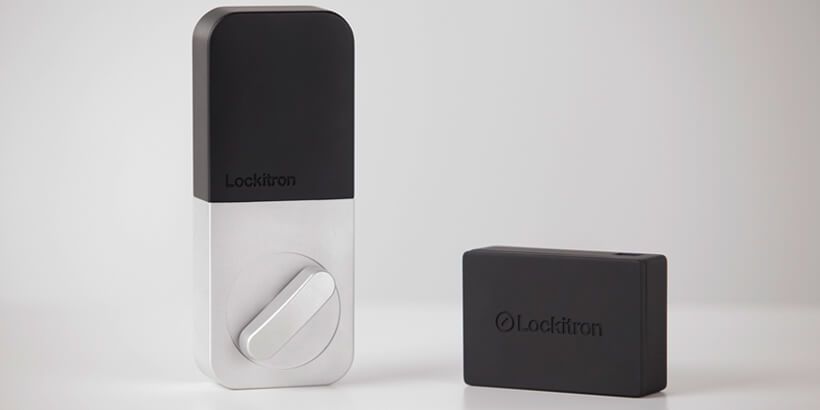 If you are looking for a simple, clean solution to lock your door the smart way, then we recommend Lockitron Bolt. This is a smart keyless entry device that connects with your iPhone or Android device and grants you access in 1 second.
Simply install the Lockitron Bolt app from iTunes or Play store and swipe to lock or unlock your door. Of course, Lockitron enables custom patterns for smart watch owners such as Pebble or Android Wear.
It's great that Lockitron works with classic mobile phones via SMS messaging and it even has a built-in knocking sensor that notifies you when someone is at the door.
Why Lockitron Bolt?
It's simple and intuitive
Control it from anywhere in the world
Add scheduled privileges for people
Get notified when someone unlocks the door
Works with text messages
5 minutes installation process
Learn more about Lockitron Bolt
6. Samsung SHS-P718 Digital Door Lock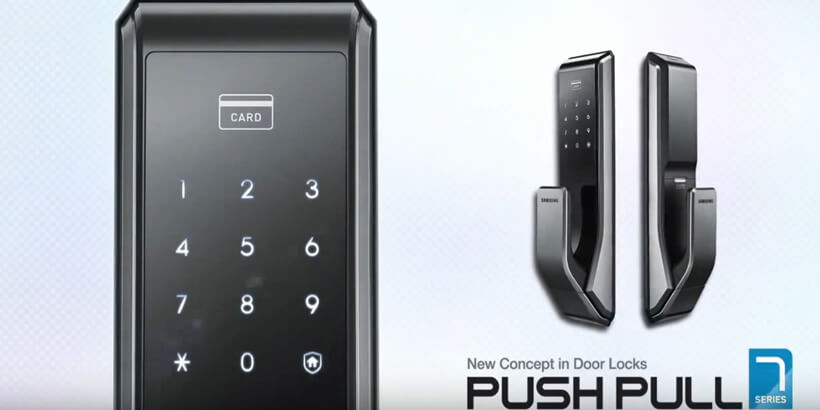 This is a smart lock that resembles Ultraloq UL3 in the sense that it comes with a similar touch panel and access point and a nice, sleek design that makes it stand out. On top of that, Samsung takes it ones step further and simplifies the way you open doors using a push / pool handle.
SHS-P718's design is stylish and quite easy to use adding an extra layer of security to your home while allowing even small children to open the door.
Why we like Samsung SHS-P718
Setup an unlock code (4-12 digits)
Auto lock within 1 second of closure
Fingerprint setup or digital numpad
Learn more about Samsung SHS-P718
7. August Smart Lock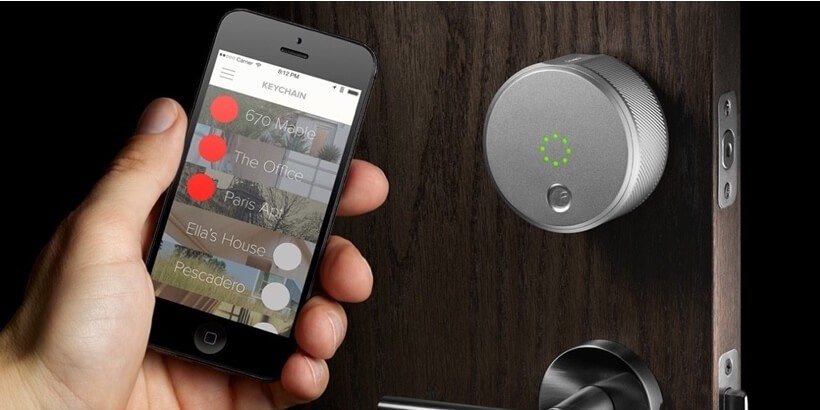 This is a very beautiful and smooth smart lock. It's clean, round and definitely a highly secure asset. August features an easy to install, robust device which allows you to keep track of who gets access to your home and who doesn't.
The device works flawlessly with the Apple HomeKit and all Android based smart hubs. August will automatically open the door when you approach, and if you want, it will close it as soon as you leave your home removing the worry of losing the keys.
Why August?
Add multiple guests / friends and family
Schedule access
Notification through August app
24/7 activity log
Learn more about August
8. Schlage Camelot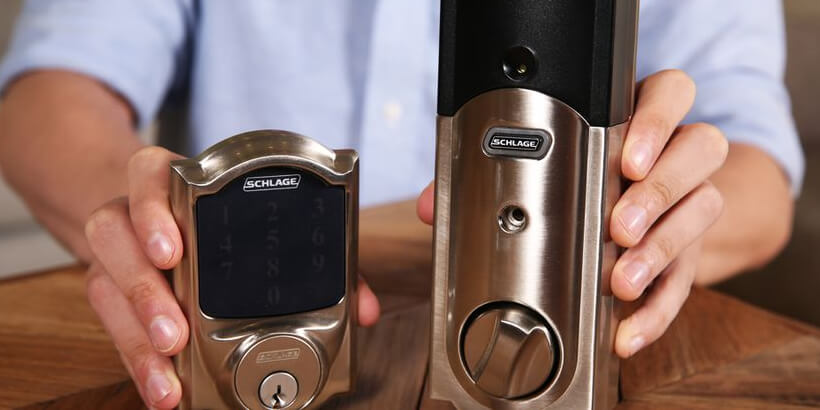 A great combination between classic door locks and high tech. If you are into vintage, but still highly passionate about tech, then Schlage Camelot is the solution for you.
Simply touch the logo on the touch panel and your door will be unlocked within a second. You can also customize Schlage with an access code and even use an old school key.
Schlange can become quite noisy if someone tries to pick the lock because it includes a sound notification alarm which can be customized to generate a soft beep sound whenever you open the door.
Why use Schlage?
Comprehensive door lock
Classic meets future tech
Create multiple door unlock codes
Can be configured from the touch panel
Learn more about Schlage
9.  Yale Assure Lock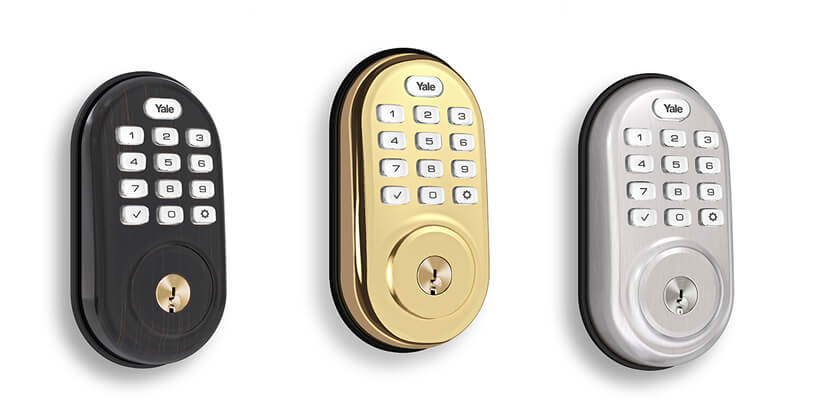 Yet another impressive lock from the experts at Yale. This is a more classic looking smart lock that features a physical numerical pad for access codes and a classic key latch. We like this door lock because it's classy, it looks great, it's minimalist and it's available in 3 different colors.
On top of that, Yale Assure Lock has a deadbolt that's compatible with Crestron's infiNet EX Wireless making it easy to integrate with other smart devices in your home.
Why Assure Lock?
It's easy to use
Includes classic key latch and pushbutton
Status indicator
Wireless access through Crestron infiNet Ex
Learn more about Assure Lock
10. TappLock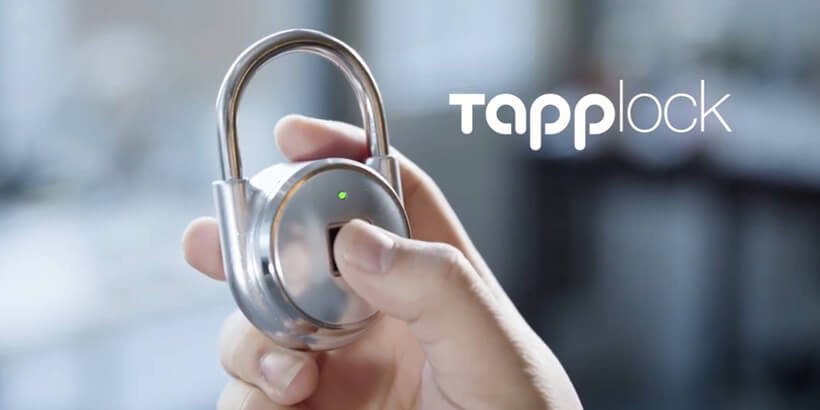 It was about time for the old school lock to be upgraded to this century. TappLock is the first, most advanced smart lock which unlocks based on your fingerprint.
Say goodbye to your key and to remembering code combinations because TappLock only needs your fingerprint to unlock your most valuable assets, and that in just 0.8 seconds.
On top of these, TappLock comes with a LiIon battery which can last up to 3 years on one charge.
Why use TappLock?
No mobile phone required
Can be used as a mobile charging bank
Schedule access for guests
Built-in alarm if someone tries to cut it
Learn more about TappLock
We are proud to see so many creative smart locking solutions and all at quite affordable prices. Have you found the solution that fits your needs yet? Let us know or get in touch with our experts to help you out!