As a CEDIA certified member, the Geeks of Technology company is following their principles at every step. As a consumer of smart technology however, you may not really know what CEDIA is.
You should know that CEDIA is an important association which governs how things run in the industry of smart home installations. It is also the greatest asset for manufacturers and homeowners, responsible for innovation in the smart tech sector.
Let's start from the beginning.
What Does CEDIA Stand For?
CEDIA is an acronym for Custom Electronic Design and Installation Association. It is the international association that represents smart home integrators and manufacturers.
CEDIA is also the global industry association for residential technology providing educational materials, developing standards and ensuring the highest level of professionalism in the field.
CEDIA collaborates with architects, designers, integrators and homeowners to find the perfect balance between demand and supply.
What is a CEDIA Certification?
A CEDIA certification is a set of credentials given by the CEDIA association to those who prove an extensive knowledge in a defined area of smart integration.
Certifications include the following:
CEDIA Certified Cabling & Infrastructure Technician (also known as CIT)
CEDIA Certified Integrated System Technician (IST)
CEDIA Electronic System Certified Technician (ESC-T)
CEDIA Electronic Systems Certified Networking Specialist (ESC-N)
CEDIA Electronic Systems Certified Designer (ESC-D)
CEDIA has Been Founded Over 30 Years Ago
CEDIA came to life in November 1989 when a group of young and passionate technology professionals decided to create an organization that will serve the consumer by raising awareness of the needs among manufacturers and integrators.
CEDIA does this by implementing standards and awarding certifications only to the best of them.
CEDIA is a Big Family of Over 3900 Companies
In over 30 years of excellence and activity, the CEDIA family has grown from few members back in 1989 to over 3900 members today.
We are proud to be members of this amazing association and to carry on the principles of work shared by industry's finest.
CEDIA Awards
To make things even more interesting and boost the competitiveness that leads to continuous innovation, CEDIA launched the CEDIA Awards.
These are awards for integrators, technicians and manufacturers of smart home devices that took their job to absolute perfection.
The categories for the awards are:
Best Integrated Home
Best Showroom
Best Multiple Dwelling Unit
Best Home Cinema
Best Auto, Marine, or Aircraft
Best Lighting System
Best Documentation
Best Dressed Rack
Life Lived Best at Home
CEDIA is Available in Over 77 Countries Worldwide
Yes, CEDIA is not only in US, it is a global initiative that runs technology and integration standards in South America, Europe, Australia, Asia and Africa as well.
You Can Take a Virtual Tour of CEDIA Headquarters & Explore the Technology
As you probably figured it out already, the CEDIA headquarters has one of the most impressive showrooms in terms of technology.
The shades are motorized, the frames are made by Samsung, everywhere you find a touch panel and a smart wall panel is at every step.
Here you can find the Josh.ai assistant, the Ketra Lights or the Crestron Scheduling Panel. Moving forward will reveal the Crestron Xonnex, the Sonos Connect and the Lutron HomeWorks in a beautiful rack display.
To view the 40,000 sqft building, you can visit the official website and simply use the navigation dots to check out the technology.
CEDIA Expo – The Place for Geeks
The CEDIA Expo is a yearly event held by the CEDIA officials, an event that brings together thousands of technology professionals and exhibitors.
At the Expo you can get access to new technologies, innovations and breakthroughs and the inputs from most influential figures in the industry. CEDIA Expo is the place to be for people who are working in the technology industry, home integrators, automation experts or even passionate people.
CEDIA for Homeowners
CEDIA serves as a crossing deck between technology professionals and regular people who want better homes. As a means to educate people about smart technologies, the implementation process and making the right choices, CEDIA built the CEDIA for Homeowners Program.
Here you have the two sections:
Translating Tech Talk – learn exactly how to ask for the right things from your integrators
Tech 101 – getting you to understand the process of designing a smart home
Learn more about the Homeowners program.
Why Work with a CEDIA Certified Member?
A certified CEDIA member doesn't mean a diploma or a name on a piece of paper. It is a certification which ensures professionalism and home integration solutions at the highest possible level.
A CEDIA member will:
Offer you trained technicians, architects and designers that have a high level of knowledge and skills
Ongoing support for the installation they do
Step by step professional guidance that helps you make the right decision based on your needs
A perfect home integration solution that's tailored on your daily routine and lifestyle
Need a CEDIA Certified Member?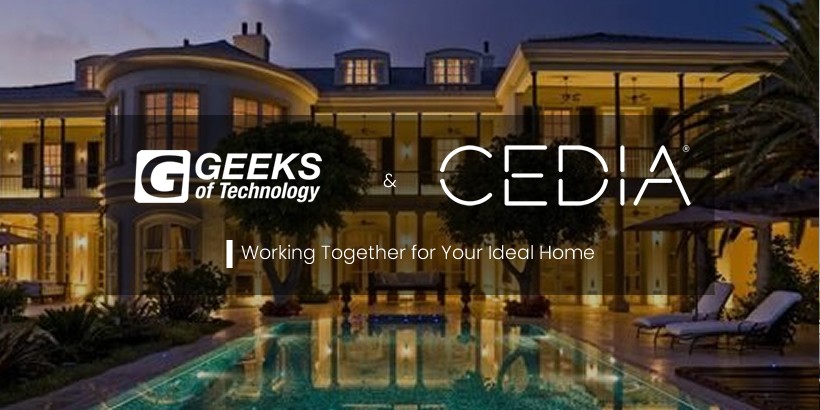 If the answer is yes, then Geeks of Technology is here for you. We've been a certified CEDIA member since 2013 and we've worked on hundreds of high-end projects that changed people's lives.
If you need an appraisal, then you can get in touch with our team here or calling us at (954) 251-0600.