The patio must be the ultimate relaxation place, a safe spot in your home ready to be whatever you need it to be. It can be the place where you sip your favorite cocktail, the outdoor entertainment center, the place where you sit and watch the stars or a place that uncovers the pool for a refreshing swimming session.
Whatever you need your patio to be, you should know that smart technology can make it way better. People seem to live under the impression that smart technologies belong only inside.
The truth however is that you can automate even the tiniest things in your backyard, from lightbulbs to sprinklers, to AV systems and heating or cooling solutions.
Just to give you a glimpse of what smart home automation can do for you, we present the following ideas:
1. You Can Mount an Outdoor TV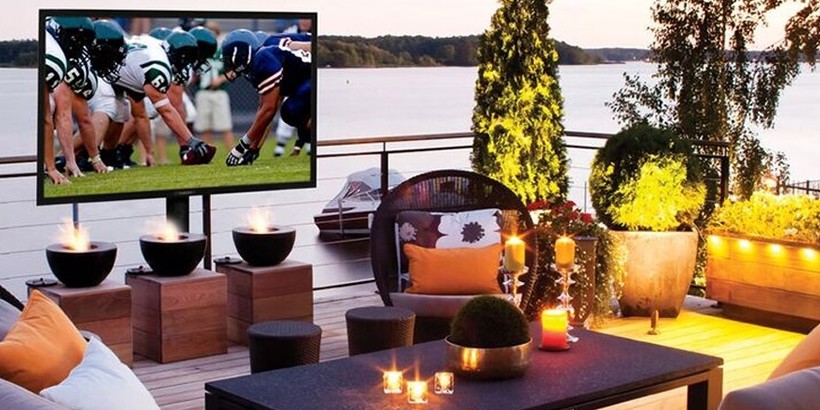 An outdoor TV is a brilliant way to bring life to your backyard patio. Unlike an indoor solution, the outdoor TV can withstand extreme weather, water, shock and even corrosive agents.
It can be mounted near a pool or using a stand that's placed in your favorite spot. The TV can be used for karaoke parties, watching a show with friends or simply for news purposes.
2. Step Up Your Lighting Game
Smart lighting is only limited by imagination. You can use it to light up your patio on schedule, to color it with RGB lighting or to power a romantic outdoor dinner.
What's even more interesting, is that you can control everything from one single app that covers the indoor.
3. Enjoy Your Patio Even in The Cold Weather
Who's to say that you can't enjoy your patio when it's cold outside? The smart outdoor heaters are an absolute brilliant solution to this problem.
You can control them from your mobile phone and they are a nice addition to the patio design.
4. Use a Camouflage Sound System Made for Outdoor
Many of our clients need outdoor sound, but unfortunately, they believe that a sound system is a heavy solution that ruins the aesthetics. Fortunately though, our partners at Sonnance are the leaders in camouflage sound systems.
The Sonance Patio series was designed specially to fit this need. Exceptional sound packed in a beautiful, discreet design.
Their speakers can easily be mistaken for a rock or a garden decoration. Worried about cabling? Don't worry, after all, we are experts in dealing with those.
5. Enrich Your Patio Using a Smart Fountain
Nothing is more relaxing than the sound of water hitting the rocks. Add some lights in the mixture and the delight is guaranteed.
To go a bit further, you can control the fountain water supply from the app and set up a custom light scene whenever you're in the mood for it.
6. Get a Smart Fireplace Controlled from Your Mobile Phone
If you are not the type of person who enjoys water so much, then you can definitely go with a fireplace instead. After all, it is cozier and the light spectacle is quite astonishing.
The list of options in this department is quite diverse. Just get in touch with one of our integrators and we'll help you make the right choice.
7. Get a Rollable Deck That Uncovers the Pool
If you are like us, then you definitely enjoy every possible optimization in terms of ergonomics and aesthetics.
The rollable deck is a smart and extremely cool way to save space and make a show while doing it.
8. Get an Automated Lawnmower
If your backyard and patio are covered in grass, then an automated lawnmower will save you a ton of time and resources.
There are plenty of automated lawnmowers on the market. You can also set it on a custom track and activate custom schedules as well.
Check out our list of top smart choices for the garden.
Need More Ideas?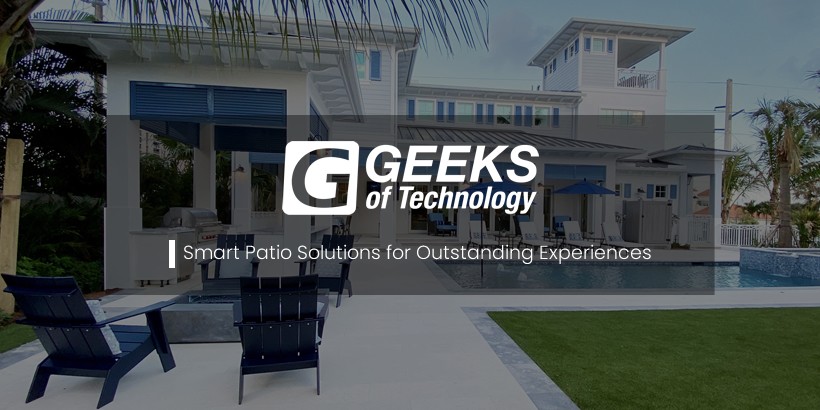 Our designers and engineers are a fountain of ideas ready to offer you solutions that fit your home. We are also very ready to work on out of the box, unordinary projects that take it to the next level.
Learn more about us or call our office today – (954) 251-0600!