In a high-end smart home installation, the design is more important than you'd think. Even more important is to take out of sight every little detail that shouldn't be visible, but still let it have an impact over your smart home experience.
This is the case with the smart speakers. We want to implement music that follows us, sound that is powerful enough and fidelity that is out of this world. However, we really don't want to let the speakers interfere in our design!
The best way to do this is by encapsulating them in the ceilings and in the walls. However, most in-wall and in-ceiling speakers lack the "out of this world" sound.
Fortunately though, Sonance comes to the rescue!
Sonance is a high-end speaker manufacturer that came to life in 1983 to eradicate the "aesthetics issue" that comes with speaker installations. The main philosophy behind Sonance is that technology should be "present" without being seen.
This is exactly what their products offer: outstanding sound and exceptional aesthetics.
Sonance Invisible Series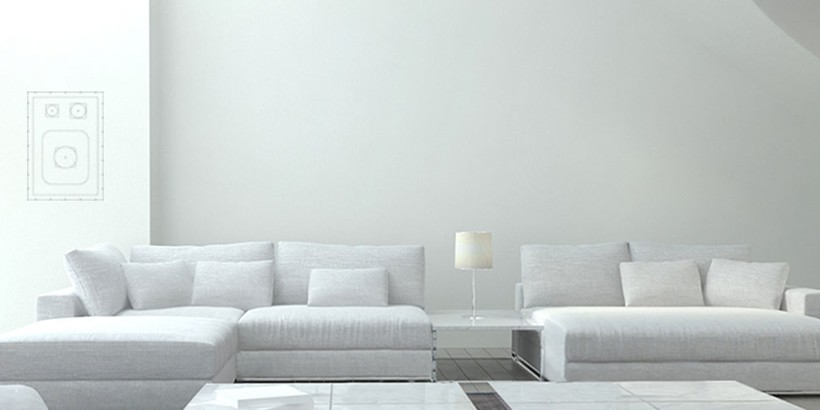 The Sonance Invisible Series is a collection of sound systems designed to be completely invisible while offering the same sound experience as a "classical sound system".
These speakers and subwoofers are embedded within the walls and ceilings of your home and they are covered with the same materials and textures of the surroundings.
Outdoor Sound – Sonance Patio Series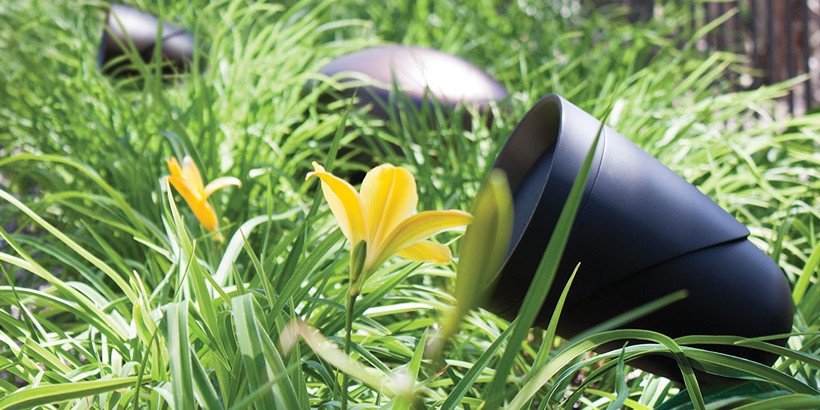 The Sonance Patio is a 4.1 Speaker system that includes 4 satellite speakers and a in-ground subwoofer powered by the Sonance DSP amplifier. This system is powerful enough to start an outdoor party without seeing any intrusive speakers around you.
The system is designed to be extended based on your yard size. You can easily extend the coverage by adding a secondary Patio System, totaling 8 speakers and two ground subwoofers that can handle over 2000 square feet with ease.
If you need something that blends even more and offers even more power, then the Sonance Garden Series will offer you what you need. The Garden Series offers an 8.1 system and a coverage of over 3.500 square feet.
It has an in-ground subwoofer and can be extended to 16 speakers and two subwoofers on a single Sonance amplifier.
Architectural Series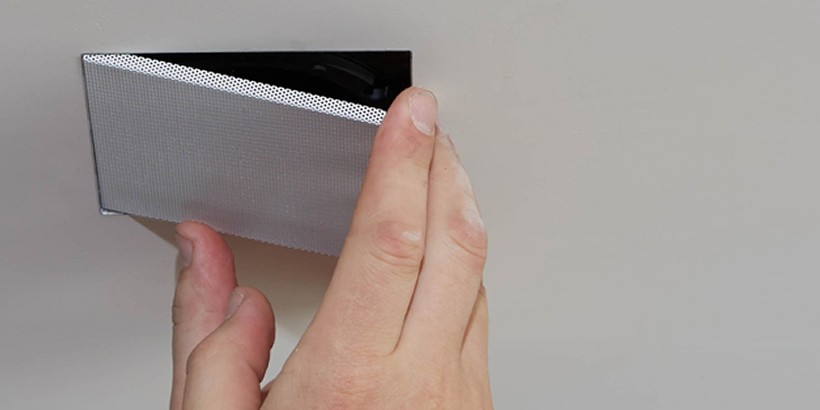 Sonance Architectural is the smoothest way to deliver high performance sound and breathtaking, premium aesthetics into a small package. It is all about precision finish and state-of-the-art driver materials.
The speakers fit into plaster, wood or metal offering a minimalistic design or covered by a coat of special paint. The speakers use a grille leveling system so they will never interfere take out any of your space. They work perfectly for ceiling installations alongside lighting systems or with wall touch panels.
Sonance Professional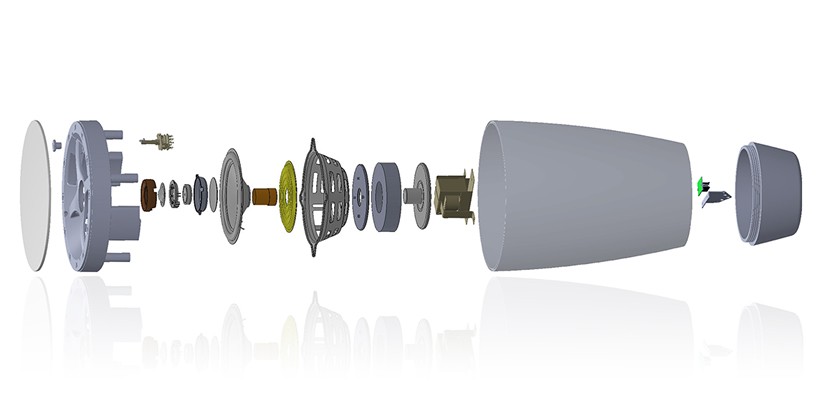 The Sonance Professional Series takes the sound experience to an audiophile level. These include a range of 70V, 100V, 8 Ohm speakers that come in 3 form factors (In-Ceiling, Pendant or Surface Mount Speakers).
They are perfect in terms of fidelity, offer extremely-low distortion and a wide dispersion. These speakers are also the best choice in terms of consistent voicing offering seamless sonic integration when used together throughout a space.
Form Factors
In-Ceiling
These are bezel-less grill speakers that minimize the visual distraction and reduce shadow lines. They can be camouflaged using a white or black, round or square HVAC-like grilles.
Pendant
The pendant form factor is ideal for elegant environments looking exactly the same as a pendant lighting. It is available in black or white and can be painted to match the décor. The cover hides the wiring and connector making it smooth and perfectly integrated.
Surface Mount
The Surface Mount is a minimalistic approach which transforms the Sonance speakers into futuristic pieces of the décor. Just like the "Pendant" or the "In Ceiling" speakers, these can be painted to match the environment.
Surround Sound and Entertainment Solutions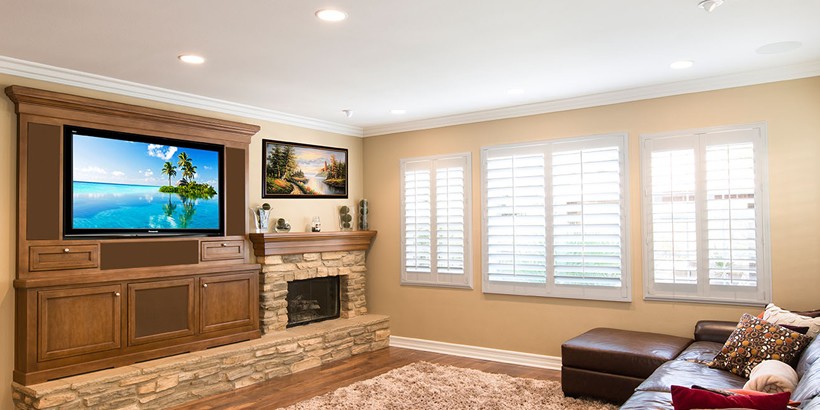 Sonance goes to great lengths to ensure a seamless integration of sound systems for entertainment, a solution that is powerful enough to shake a room, but it's invisible in terms of appearance.
The entertainment system from Sonance is built specifically to bring the best out of movies, gaming, concerts or multimedia content.
It integrates perfectly into living rooms, family rooms or media rooms. It is also a great solution for a smart home theater or home cinema.
The Speakers
Designed to fit any room and to camouflage behind walls or ceilings. The entertainment speakers (Sonance Reference) are created to offer the perfect balance between high-performance, fidelity and power with blending design.
The Soundbar
Besides being powerful and modern-looking, the Sonance Soundbar can be adjusted to fit the size of your TV. This mixes the two in a unibody form-factor that looks and sounds astonishing.
Subwoofers
Sonance offers a wide variety of subwoofers designed for entertainment. In fact, they create custom solutions to fit any type of room. Even better, you can connect the subwoofer using a wireless transmitter that has a range of 30 feet, allowing you to place the woofer wherever fits best for your needs.
The Choice for Top Brands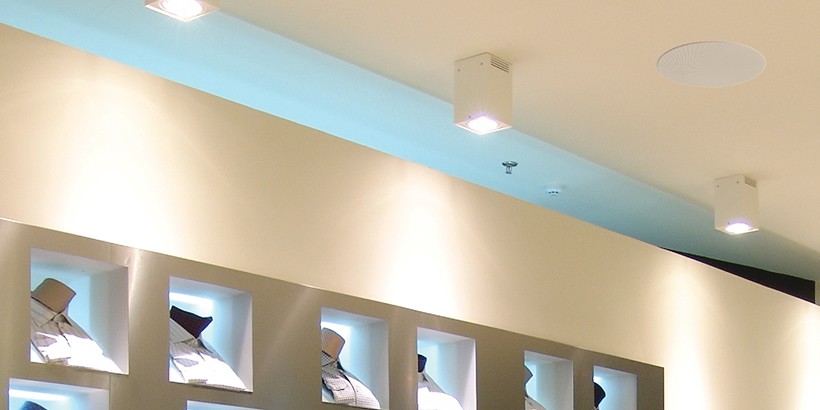 The Sonance speakers are so smoothly integrated that they fit perfectly fine in a wide variety of environments and scenarios.
These are great for luxury smart homes, but work flawlessly for galleries, restaurants or premiere boutiques. In fact, large brands like Gucci, Louis Vuitton, Prada or Dior use the Sonance speakers exclusively.
Conclusion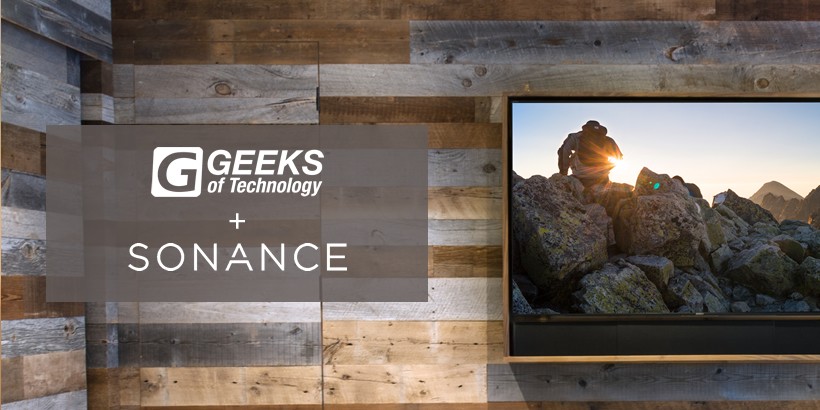 As you can see, the Sonance speakers can fit in a wide variety of spaces. These look astonishing and offer an unparalleled sound experience. You imagine it and we install it. Get in touch with one of our integrators and learn more today – (954) 251-0600.