It is not uncommon for people to think of smart exterior lighting in superficial terms and often times we hear people who say that they are fine with just a source of light that turns on and off using a sensor.
They are fine with being able to see their stairs at night time and have a look at their backyard when it is needed. That's great, but if you think smart exterior lighting is just that, then please read this article to learn more.
In fact, the lighting represents one of the crucial elements of your home's design. Therefore, picking the right choice in this area can make the difference between totally amazing and a design disaster.
What is Smart Exterior Lighting?
Smart exterior lighting refers to the smart home division in charge with providing the best lighting solution for your exterior, backyard, pool and additional external spaces. It is a job that involves exterior designers, lighting experts and integrators that ensure a 100% compatibility with your home environment.
The exterior lighting job is about much more than light, it is about creating a symbiosis with your home's design and enhance the features you want to reflect your style, both during night time and day time.
Essential Areas That Require Your Attention
While exterior lighting can go to extreme lengths to present your beautiful home design, it actually serves safety and comfort first.
The key areas that are in charge with safety are:
Security Lights – The ones that get triggered whenever a dangerous animal or a potential burglar wants to get inside your home. These are usually extremely bright and can be triggered remotely as well.
Stairs Lighting – These are usually supported by LED strips or even spots mounted inside the stair or in the sideway wall. They can also be triggered by motion sensors whenever someone approaches them.
Path Lights – The path lights don't only look amazing, but they should be an essential part of your exterior lighting plan. These can be supported with lamps, spots or even LED strips.
What can Smart Outdoor Lighting do for My Home?
Lighting is a very flexible field and it can easily fit in almost any scenario you can imagine.
From security lighting to path lighting or LED strips with RGB and underwater lighting to outdoor wall lighting solutions and decorative lanterns, the exterior lighting can become your ultimate backyard designer in the night time.
1. Spot Lighting
Spot lighting, commonly known as up-lighting is usually associated with landscape lighting. It works amazingly well in association with fountains, pools, gardens or statues.
2. Path Lighting
As I said before, the path lighting process is essential not only for aesthetic purposes, but for functional aspects as well.
Based on your home's architecture and decor options, you can go with vintage posts that have lamps, led strips for a more modern look or small bollard lights placed next to your alley.
3. Deck Lighting
As you probably already figured out, it is lighting designed to emphasize your deck's stairs and scenery. Depending on your preferences and decor, you can opt-in for string-based lighting, umbrella or tree lights, in-stair lights or solar powered railing lights.
4. Security Lighting
Security lighting is a complementary component of your surveillance system. Basically, security lighting detects and even repels potential intrusions from animals or potential burglars.
The security lighting is powered by extremely bright projectors that can be:
continuous
sensor triggered
portable & movable
emergency / triggered by other security assets
5. Landscape Lighting
Landscape lighting, known as garden lighting is the part of outdoor lighting that focuses on finding and implementing the best lighting solution to compliment your garden and plants.
You would be amazed to see what kind of transformation you can get from a simple garden if you combine it with the right lighting solutions.
Controlling the Lights
It is a visual delight to have pathway lights, deck lighting, wall lights, pool lights, security lights and lights for your landscape and fountain as well.
What is not that great though is when you have to turn them off or turn them on selectively. If you have to do it manually, then you definitely need to hire someone to be in charge of lights.
Don't worry, we got you covered! GeeksFL offers a complete app solution powered by Crestron and Lutron. The app will allow you to customize how the lights work, define schedules and even turn them on or off selectively. Learn more about smart lighting controls.
What About Energy Consumption and Environmental Impact?
If you are an eco-friendly person like us, then you definitely care about the footprint generated by the lighting consumption.
We are here to assure you that you shouldn't worry at all because every solution adopted by GeeksFL is 100% eco-friendly.
This is mainly because of the technology used. We always use high-efficiency lighting sources based on LED, paired up with high-end sensors.
Not only you'll get exceptional lighting, but you will also enjoy a setup lifespan of about 15-20 years with the energy savings of up to 80%.
Not Sure Where to Start?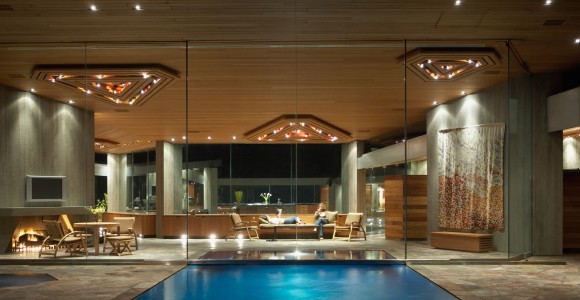 Professional lighting is a solution that can completely revive and embellish your home indoor and outdoor. However, it is a subject that requires professional attention and planning.
Our lighting experts are here to provide you insights from the world of lighting and exterior design. Learn about the latest trends in the industry and work with the best.
Get started here or give us a call today (954) 251-0600!