As a businessman or luxury homeowner, you're probably always looking for ways to save time and money. The best way to do that is by investing in Creston's automated solutions – the undisputed leader in residential and commercial automation.
Not only are Creston's products top-of-the-line, but they're also innovative, affordable and smart in the truest sense of the word. Read on to learn more about Creston and its amazing smart solutions!
What is Crestron?
Crestron is a leading residential and commercial automation company with a long innovation history. Their products are trusted by many businesses and individuals in the automation industry for a reason. They offer extensive solutions that make life easier for homeowners and businesses.
Some of their most popular smart automation products include home access systems, automatic lighting, conferencing systems, cloud networking, and temperature controls. Their devices are easy to use and integrate seamlessly into your current lifestyle and workplace flow.
Additionally, their solutions are reliable, easy to use, and affordable – making them the perfect choice for any home or a business owner.
Smart Home Products Offered by Creston: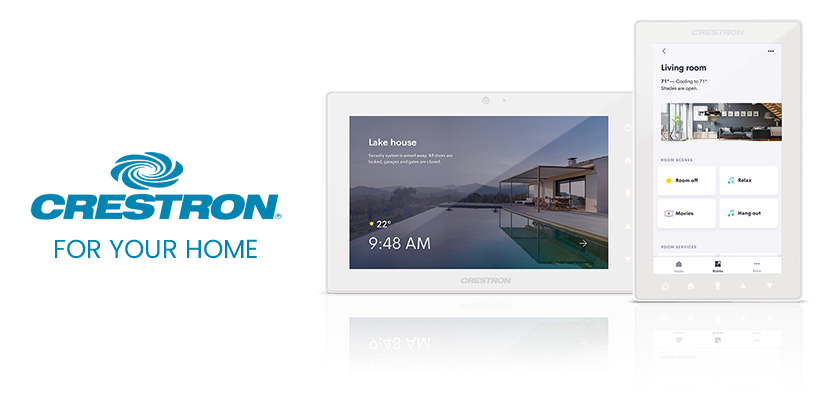 When it comes to the perfect lighting solution, there is no one-size-fits-all answer. That's why Creston offers a wide range of smart lighting products that can be controlled from your smartphone or computer.
Whether you're looking for a way to efficiently illuminate your entire home or just want to improve the brightness and mood of your living space, these products have you covered.
When it comes to smart home technology, Creston always leads the pack. They offer shades that can be controlled through an app or left on auto-pilot.
This is perfect for people who want to shield themselves from too much light in the morning or during evening hours. Not only this but their design patterns and aesthetics are totally up your alley!
Learn more about why Crestron Shading Solutions is the ultimate option for those who need smart shades & blinds.
Audio and video are important aspects of any home, but they can be even more so when it comes to entertaining. That's why there is a need for high-quality audio and video systems that can be controlled with ease from one place.
That's where the Creston Sound System comes into play. This innovative product has top-of-the-line sound quality and allows you to create Audio Zones that ensure every partygoer hears the music clearly.
Moreover, their Creston DigitalMedia Technology ensures seamless streaming of audio and videos across various devices in your home – all being controllable through a single platform, the Creston Home App!
Creston offers a complete automated home security suite with various security devices that you can use to safeguard your home and family. From smart locks for doors and windows to motion sensors, CCTV systems, and air quality detectors – you can find every automated device to make your home the safest place for you and your loved ones.
You can control every device from your tablet, smartphone, or computer – even when you're away from home. This makes life easier and helps ensure that everything is protected in case of a break-in or other emergency.
You no longer need to struggle with manually adjusting the temperature in your home! With Creston's Horizon thermostat, you can have everything under control – from heating and cooling to humidity and air quality control.
These handy gadgets also come equipped with features like remote access, weather updates, automated heating and cooling, energy monitoring and air filtering capabilities, etc.
Smart Commercial products offered by Creston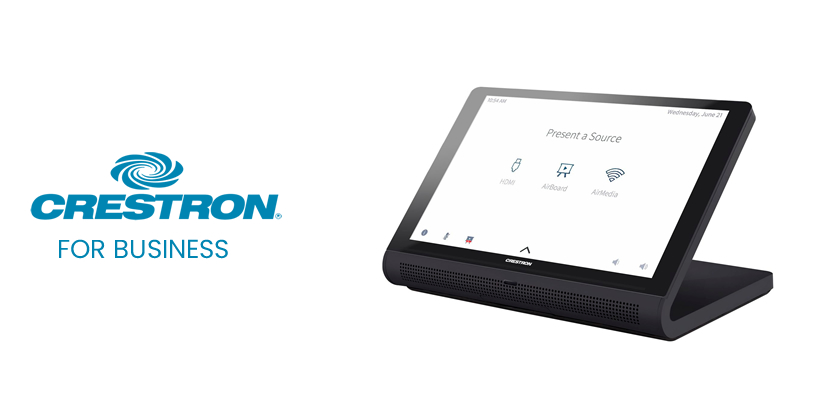 Workplace Solutions:
Creston offers a wide range of innovative and easy-to-use solutions perfect for busy workplaces. From unified communications to intelligent video conferencing and wireless presentation systems, their products are designed to help your team be more efficient and productive.
They also have cutting-edge technology that makes it possible for you to keep up with the latest trends in business communications. So whatever your needs are – from simple phone system upgrades to comprehensive business collaboration solutions – Creston has got you covered!
Enterprise Solutions:
Creston understands that businesses require reliable, smart commercial products to run smoothly. That's why they provide enterprises with a massive range of solutions such as network monitoring, room scheduling, and device and space utilization reporting.
Their solutions are tailored to meet the unique needs of your business – ensuring optimal efficiency and productivity.
Education Solutions:
There are countless education solutions out there, but not all of them are suitable for everyone. If you're looking for a technology-driven learning solution that'll turn any classroom into a digitally learning-focused space, then look no further than Creston's education Solutions.
From classes to labs and esports rooms, they have everything you need to make learning fun and engaging for every student.
Check out how Crestron & GeeksFL can help you with automating educational institutions.
Government Solutions:
Creston also offers sophisticated, highly secure, and smart government products. They have an extensive range of solutions that are extremely effective and efficient in meeting the needs of every size of government department and institution. From VoIP to video security, cloud storage, and secure networks – they have it all!
Hospitality Solutions:
With Creston's hospitality solutions, you can streamline your operations and provide a flawless experience to your guests.
From automated lighting, motorized shades, and climate control systems to video streaming and sound technology, their products are meticulously designed with safety in mind. This means that they are perfect for busy restaurants and hotels.
In addition, Creston offers 4k video streaming so guests can enjoy every moment of their stay! Learn more about our "Hospitality Services".
Marine Solutions:
Creston understands that a variety of needs go along with owning a superyacht. That's why they offer an array of innovative marine solutions like distribution and control of video and audio systems, automated shades, climate control, navigation systems, and even lighting integration.
Have a marine vessel? Check out how we can automate the systems.
Ready to Get Started with Crestron?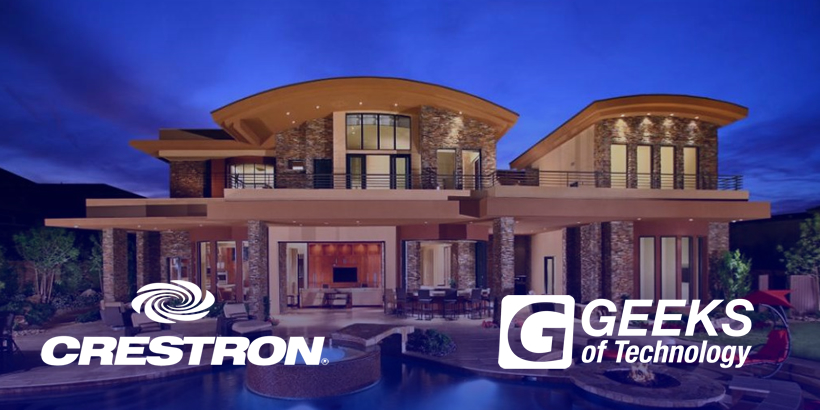 Creston offers an impressive range of residential and commercial automated solutions. With technology-driven devices and a focus on quality, they have everything you need to ensure you save time and money without compromising on the quality of devices in your home and business place.
Geeks of Technology is a certified Crestron integrator in Miami, Florida ready to help you engage with all the marvelous technologies Crestron has to offer. Get in touch with one of our representative at (954) 251-0600 or using the "Get Started" form today.