Crestron is the most innovative force in the home automation industry since 1971. The company stands behind top AV implementations out there and some of the most powerful touch panels ever created.
It goes without saying that such powerful hardware pieces need to go hand-in-hand with powerful software.
In Crestron's case, this is Home OS 2 and OS 3. Today we are going to focus on the later one, the new OS 3, a complete operating system that goes to the next level of home automation.
Crestron Home OS 3 is an operating system focused on delivering an out of this world "Residential" experience using a much cleaner user interface that makes things easier and more intuitive.
The redesign and the engineering behind the OS took approximately 2 years and the beta testing was completed back in 2019.
Now, after being tested by over 250 integrators, and countless of hours of adjustments, the final product is here.
Why is Crestron Home OS3 so Great and What's New?
Clean, Seamless User Interface
The new OS 3 user interface is described by a stylish and responsive design that makes everything more intuitive. Crestron was always renown for the stable, reliable software and hardware, but sometimes these were quite heavy for the ordinary user.
This is not the case for OS 3 since it has been rated as the most user-friendly Crestron user interface.
Because the OS 3 is based on a Crestron framework the transitions are way smoother and the overall experience focuses on fast access and execution.
Multi-Home Support
The multi-home support is a great asset of the new OS 3 platform. This means that now you can control multiple homes much easier from the same intuitive platform by switching in seconds by tapping on the desired location.
Fast Deployment
Unlike other operating systems dedicated to home automation, Crestron Home OS3 makes it dead-simple to deploy on a large-scale project at a fraction of the development time it used to take.
Thanks to OS 3, the days on which Crestron had to rely on integrators programming are now gone. This is great because the new version makes it virtually impossible to stumble upon bugs or coding issues.
A Scalable Solution
Even though the programming and deployment has changed, that doesn't mean the customizations did as well. In fact, the new OS 3 makes it easier to deal with a ton of zones and many AV sources.
OS 3 can handle up to 300 lighting loads, a set of 100 motorized shades, over 24 touchscreens, 120 keypads, 32 video sources and 32 video zones.
You can set up a security system that goes to over 32 sensors, 10 streaming cameras, 6 door locks. OS 3 also supports 24 audio sources with 4 active audio groups, 32 thermostats, 1 display / room and 6 AVRs.
Backward Compatibility
Crestron is all about customization and device compatibility. This is why, the OS 3 is not different and supports older Crestron devices up to 15 years old.
Military-Grade Encryption for Communications
OS 3 benefits from an enforced end-to-end encryption designed to sustain some of the most secure communications ever implemented in a residential home automation system.
Highly Awarded by Industry Leaders
The Crestron Home OS3 has been one of the most awarded new technologies in 2020 by some of the heaviest names in the smart-tech sector. CEPro awarded Crestron with the "Top New Technology Award". Crestron Home is also twice winner of the "Best of Show" at CEDIA 2020 and the winner of the Connected Design Award and the Most Valuable Product Award.
It goes without saying that OS3 has changed the rules and made significant steps towards what real customization means in the smart home industry.
Ready for the Crestron Experience?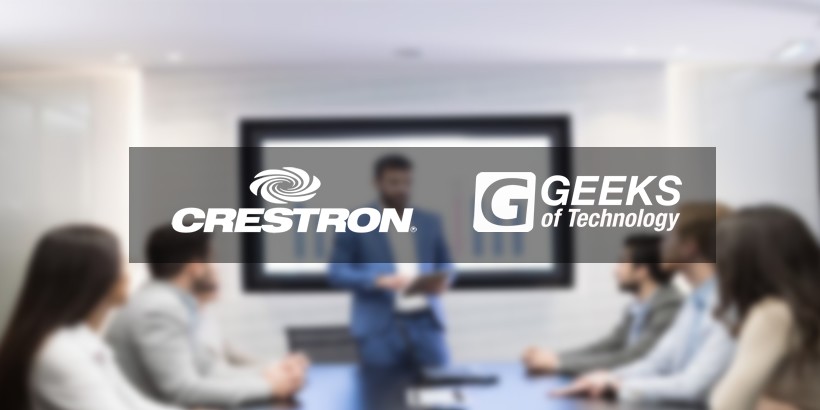 GeeksFL is a leader in home automation and system integrations. We are a Florida-based company that focuses on building high-end custom setups powered mainly by Crestron and top brands in the industry.
Our purpose is to help you decide and implement the best solution for your home and daily routine. To that extent, we propose to you to get in touch with one of our representative and learn more about how Crestron and OS 3 can improve your life.
Get started here or give us a call today at (954) 251-0600!