As the world becomes increasingly digital, so too does its security. But with the ever-growing number of internet-connected devices in our homes, is our cybersecurity really as strong as we think?
In this blog, you'll learn about the various smart home devices that are most vulnerable to hacker attempts, and practical tips that can help turn your smart home into a digital fortress.
Armed with this information, you'll be able to make wise decisions regarding protecting your data, identity, and valuables from potential threats. Happy reading!
Which Smart Home Devices Are Most Vulnerable to Hack Attempts?
Hackers are constantly looking for ways to exploit vulnerabilities in digital devices, and the same holds true for smart home devices.
Remember, if everything is connected, everything can be hacked
In fact, researchers tested 16 commonly used smart devices from various brands and found a whopping 54 vulnerabilities exposing users to hackers. That said, let's take a look at the most susceptible smart home devices:
Home Security Systems
In terms of sheer numbers, home security systems are among the most popular smart home gadgets out there. Homeowners typically install them as an extra layer of safety against burglary or other crimes in their homes. Unfortunately, these systems are often laden with vulnerabilities that hackers can use to gain access to your home. For example, many home security systems use default credentials and passwords, which make them easy targets for attackers.
Home Automation Devices
Another popular type of smart home product is automation devices such as smart TVs, video game consoles, and fridges. In fact, the FBI issued a warning that hackers can hack smart TVs and gain full control. This means they can get control of channels, volume, and other functions such as screen reading, which could result in you unknowingly sharing all your passwords and sensitive information. They can even show inappropriate content to children.
Home Security Cameras
One of the most typical use for home security cameras is to monitor your property while you're away. Unfortunately, these devices are also vulnerable to attack. Hackers can use vulnerabilities in the camera software to take over the device and access sensitive footage or photos, which they can even record and save.
Video Doorbell
Video doorbell is a relatively new smart home device that allows you to view footage from cameras installed at your property's front. Like security cameras, video doorbells are also susceptible to attack. Hackers can keep track of your comings and goings through them and break in when they're sure no one is home.
Smart Baby Monitors
Something so innocent as a baby monitor can also be hacked if it's connected to the home network. Hackers can use vulnerabilities in the baby monitor software to hijack the camera feed.
As you can see, many types of smart home devices are vulnerable to attack. Cybercrime is a growing threat, and you must protect your devices against the risks it poses.
5 Practical Tips to Turn Your Smart Home into a Digital Fortress
Cybersecurity is now a top priority for businesses and individuals alike. As the cyber world becomes ever-more complex and dangerous, we all must take steps to protect ourselves and our data. Here are some ways to protect your smart home:
Secure Your Wireless Networks
Your WiFi router is the one bridge that connects all the smart devices. This means if someone gets access to it, there are good chances he can get into any device he wants, even your antivirus-protected PC.
Most homeowners don't even realize that they need to change the login and password of their router (We are not talking about the WiFi password). We're talking about the credentials used to access the settings of your WiFi router. By default, these are 'Admin' and 'Admin' for both ID and pass sections.
So make sure to change it to something super strong with Alpha-numerical and special characters. And then change the WiFi password to something stronger but not the same as the router's login details.
Lastly, ensure your WiFi router is using a strong encryption method like the WPA2, so the communication between your devices and the network is secure.
Enable Multi-Factor Authentication
Multi-factor authentication is a security feature that helps protect your data and devices from unauthorized access. By enabling this feature, you can ensure only authorized users can access your smart home devices.
This way, no one else can mess with the settings or personal information stored on them. Apart from password protection, multi-factor authentication also uses one of the following methods:
A password and an identification number (PIN)
Biometrics such as fingerprints or face recognition
A secondary security code is sent to your smartphone via text message or email.
So use a strong password and enable 2-factor authentication on all of your accounts. This will help to secure your devices from attack and make it more difficult for unauthorized individuals to access your information.
Keep Your Devices Updated
Keeping your smart devices up to date with the latest security patches and malware protection is essential for staying safe. Not only will this protect you from viruses and other malicious software, but doing this will also keep your device running smoothly and efficiently.
Ensure you have the latest updates installed on all your devices – laptops, desktop computers, smartphones, home security and automation system, smart TVs, etc.
Only Get Smart Devices From Reputable Manufacturers
We suggest thoroughly researching how secure different manufacturers' smart devices are and then buying the one with extraordinary security measures. Some criteria to look for include;
Any breaches in their systems in the past
Reputation for providing secure products
The type of data their devices collect and how the vendor uses this data
What control their devices offer you over your information and privacy usage
It's a good idea to only go with the vendor with an excellent track record in security measures. And also someone who gives you total control over your personal information with the option to access and delete the data.
Tip: Look into Crestron's smart home products; they're secure and made with high-end, luxury homes in mind.
Establish a Guest Network
To ensure your personal use devices like desktops, laptops and smartphones are secure in case a smart device is hacked, create a guest network for all IoT devices.
This will be a separate network that will keep the communication between IoT and router separate from the communication between your personal use devices. Check the instructions manual on your router to learn how to do this.
Let us Help You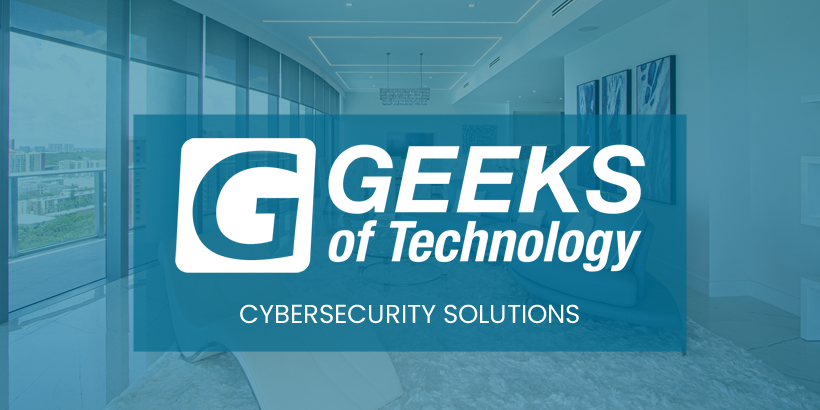 Smart home devices are increasingly becoming a part of our lives, and they are at risk of being hacked now more than ever.
While the tips in this list can help you maintain a way more secured home against hackers, you are still not 100% safe. Our equippment and manufacturers however can guarantee an impenetrable system. Talk to one of our security specialists at Geeks of Technology today to learn how we can help. ((954) 251-0600 or use the "Get Started" form.