It is true that both media room and home theater operate video and audio devices, but the difference between the two of them is quite massive.
Quite often we are asked by many of our customers what's the difference between the two rooms.
Our today's article is here to help you understand the use for these rooms and how each of them differentiate so that you can make the choice that fits your needs.
Let's get started with the Home Theater.
What is a Home Theater?
A Home Theater, also known as a "Home Cinema" is a space dedicated to offering an optimized cinematic experience. In simple words, a home theater room will offer every possible mean to heighten the visual and the acoustics of the environment in a way that only a real theater can.
To do this, a home theater room is equipped with ways to eliminate outdoor light completely. This is done using either blinds or eliminating windows altogether.
The home theater also includes visibly larger screens and soundproof walls. Of course, to complete the room, you'll always see the comfy theater leather seats alongside a spot where to place your popcorn bag and your soda.
The seats in the home theater need to be optimized as well, to offer the comfort for long periods of time and to be adjusted in the best possible viewing angle.
Since each customer personalizes the home theater room according to their needs, it is not uncommon to see the ceiling decorated with stars, the walls washed by lights or the interior "dressed" in a classical / French / Imperial outfit.
Essential Features in a Home Theater
As I said earlier, a home theater can't be complete if it doesn't follow a certain set of rules. For a room to become a home theater, it needs the following:
Complete control over the natural lighting (efficient blinds or no windows at all)
A very large HD TV screen or a powerful theater projector
3D surround sound system
Acoustic wall treatments
Component rack
Source components
Activity-based universal remote controller
What is a Media Room?
The Media Room is a room in which audio and video play an important role. In a media room you'll see a big TV screen, well-adjusted sound systems, strategically positioned and even a screen projector at times.
However, unlike in a home theater room, in the media room there's no concern for Ambiental lighting or acoustic wall treatments.
Traditionally, the media room can be used for various entertainment activities such as watching a sports event with friends or having friends over a drink and listening to Ambiental music. At often times, the media room even offers a motorized concealment option for the TV and other media, just to offer more space when they are not needed.
Essential Features of a Media Room
As I said earlier, a media room is not as demanding in terms of technologies as a home theater setup. However, it requires the following:
A large TV screen that allows you and your friends to watch the game properly
Comfortable seats that can accommodate plenty of people
High quality surround sound system that is strategically positioned
Conclusion
The outline here is that a home theater offers the ultimate cinematic experience by bringing an outstanding surround sound system and exceptional visuals while the media room is simply a room designed for general entertainment purposes.
The Media Room is indeed optimized for sound and video, but is the place where you invite your friends to watch a Superbowl game, a place where you listen to music or simply for a video presentation.
It is not meant as a specialized room, but more as a multi-use room.
Get Your Home Theater / Media Room Installation Expert!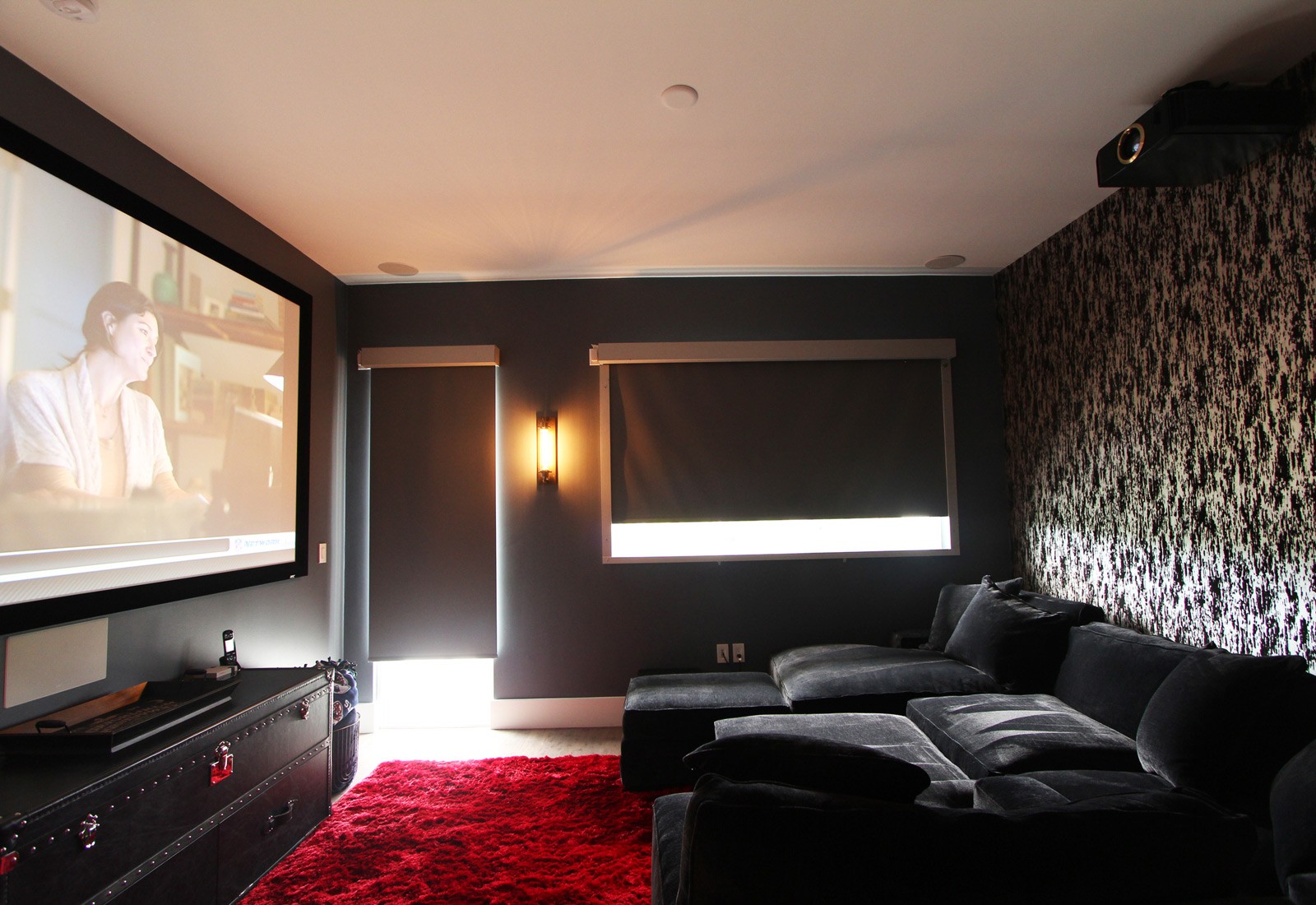 Get in touch with one of our integrators by calling (954) 251-0600 or by using the "Get Started" form.